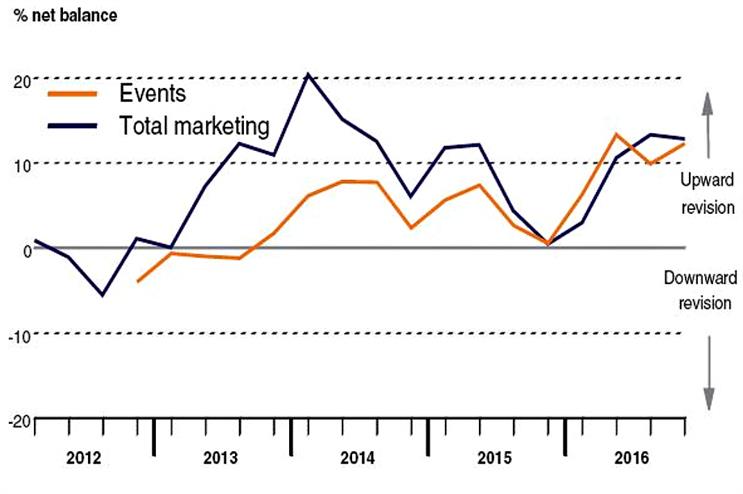 Events remain the strongest sector posting growth once again, according to the IPA's quarterly Bellwether survey of marketing spend. In the final quarter of 2016, despite economic pressures and a challenging climate beset with Brexit pressures, around 22% of the 300 UK marketing leaders responding registered a rise in events spend resulting in an increase of 12.3%.
This is an increase on Q3 2016's recording of 9.9% and is just marginally below the record level of 13.4% registered in Q2 last year. Further growth is forecast for events across the 2017/18 financial year, against a predicted fall for adspend of -0.7% this year.
The experience hungry generation
Imagination CEO EMEA Patrick Reid highlighted Gen Z's appetite for experiences as core to the growth in spite of last year's political and economic climate. "The uncertainties of the past year remind us to remain restless in our efforts to seek out new methods of communication, which are capable of capturing the attention of rapidly evolving consumer audiences. This is now the time of Gen Z, and for the experience sector unquestionable opportunity for continued growth if we can move fast to capitalise on this experience hungry audience."
It's a view shared by Urban Nerds Collective founder Luke Hodson: "As experts unlocking opportunities at the crossroads of brands and youth culture, we know that physical participation is the pinnacle of commitment to your chosen pocket of culture. As youth marketing gets in line with the 'culture first' strategy of youth engagement, events become an increasingly crucial element in the mix."
Russ Lidstone, CEO at WRG said the figures highlighted greater confidence in event marketing and showed that events and experiential are becoming increasingly integral to the marketing mix, spanning content and mobile for example.
He said: "There is an opportunity for the events sector to make sure it is well supported to take on this marketing mix, it needs to adopt a strategic approach."
The international opportunity
Claudia Stephenson, VP, business development at FreemanXP EMEA, added: "The fact that event marketing has recorded growth for the 13th successive quarter is no doubt positive news for our sector – it highlights that brand experience is not an after thought for marketers – rather it forms part of their long-term strategy.
"While the Q4 2016 report points to a potential decrease in overall marketing spend throughout 2017, we're seeing that external factors like fluctuating currency exchange rates aren't having a negative effect on our event budgets. We're in a unique position where while some of our UK-based clients have scaled back their budgets for events outside of the UK, they continue to invest in events that are delivered locally. On the flip side, our fluctuating currency exchange rates mean that overseas clients can now take their budgets further for events in the UK, which means we have the opportunity to deliver even more engaging, cutting-edge experiences for them and their audiences."
Agencies reaping the benefits from a surge in international campaigns include Wasserman and joint head of experience Cris Cicirello commented: "Wasserman now has access to an even larger scale of briefs that not only concern activating brand experiences in the UK, but beyond, with an increase in campaign requirements based on creating and activating pan-European and international campaigns.
"Clients continue to appreciate the effectiveness of brand experience. It's down to us to keep educating and demonstrating the value of the discipline, to ensure it maintains its growth throughout 2017."
Digital marketing uplift
The latest Bellwether also highlights that the use of internet continued to gain a share in the marketing mix. The internet category, which covers online marketing platforms, recorded a net balance of +12.1% for Q4 2016 against Q3's +9.5% and was the best increase for two years, with respondents continuing to report good returns on investment from digital marketing.
That digital and experiential both continue to be high on the agenda for today's CMO is unsurprising, states Geometry's head of experiential Andy Dougan: "Those who work within our sector have witnessed the increasing demand for tangible experiences that connect with people in the real world, beyond the digital realm. It's no coincidence that events and digital have been the growth channels according to the last few rounds of the Bellwether - the two go hand in hand. In an age where we can tap a button and access just about any information or content on demand, there's a countervailing desire for the experiential.

"Clients continue to recognise how invaluable and in-demand brand experiences are in terms of engaging new, emerging audiences and at the same time we are getting smarter in proving how effective such experiences can be, not just in terms of traditional metrics like footfall, engagements and dwell time but we can now track brand measures like salience, relevance and intent."
A note of caution
However, despite this positive outlook for events, the IPA sounds a note of caution that overall adspend is expected to fall in 2017 before recovering in subsequent years. IPA director general Paul Bainsfair commented: "With marketers revising their budgets up yet again, the industry ends the year (2016) on a high. Furthermore, it is reassuring that despite the slight fall in adspend predicted by Bellwether in 2017 due to Brexit negotiations, growth is forecast for both 2016 and 2018."
And PrettyGreen's founder Mark Stringer believes that the inexorable rise of event marketing spend may result in quantity rather than quality. "It's little surprise that live continues to show strong growth. We live in an experience economy and most seasoned and enlightened marketing directors see both the long and short-term returns from creating campaigns that truly engage both emotionally and physically with their customers. However, most agencies will tell you that clients want more for their money, which has meant margins are being squeezed and ultimately means agencies have less time and resource to create outstanding campaigns. There's a real danger that marketing will become a function, not an art."
Comment below to let us know what you think.
For your daily hit of news from the brand experience community, weekly brand and inspiration updates or your monthly trend download, register and subscribe to Event and our bulletins.