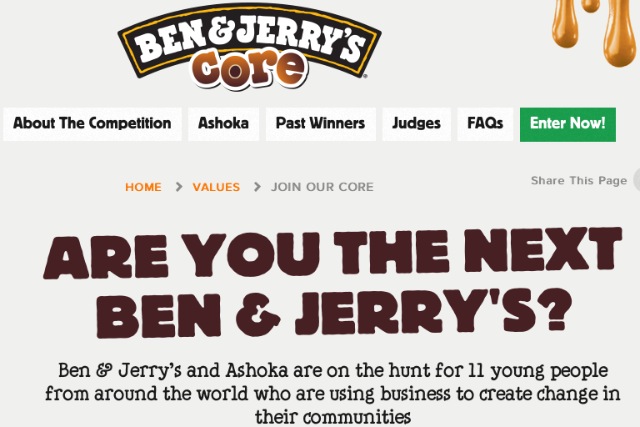 The brand is running the competition for the third year with social entrepreneur network, Ashoksa. It is inviting 18- to 34-year-olds from across 11 European and Asian markets who are using business to "create social change" to claim the prize, which also includes business mentoring and a trip to Ben & Jerry's HQ in Vermont, USA.
A spokeswoman for Ben & Jerry's said the campaign is designed to support its ethical brand positioning.
The campaign launches today and runs until 31 October, when a shortlist of winners will be invited to pitch to win. Shortlisted entrants will be invited to pitch to judges in London, Tokyo or Singapore, who will select one winner per country.
In the UK, competitors, who will receive guidance and presentation training, will need to win over Divine Chocolate managing director Sophie Tranchell to claim first place.
Matthieu Barrett, digital lead, Ben & Jerry's Europe, said: "Through the contest we want to celebrate young people across the globe who are driving cool and innovative business models that create social change."
He added that the company had invested in a "digital contest hub", developed by Maynard Malone, on the Ben & Jerry's global website, to create a single global platform for the campaign for the first time.
Finalists will pitch on 19 November, with winners announced on 20 November. The winners will have a chance to meet the brand's co-founder Jerry Greenfield.