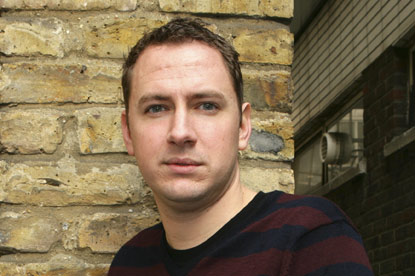 The genesis of Ben Mooge's career in advertising is a classic case of being at absolutely the right place at the right time. He'd been studying English and American Literature at Manchester University and his future options seemed to be narrowing down to journalism on the one hand or teaching on the other.
Then a friend who'd been to art college suggested they join forces as a classic creative team and see if they could find favour at an agency. Mooge was somewhat sceptical, having barely been aware of advertising as a career choice. But find favour they did - they won a placement at Mother in 1997, when the agency was only months old and merely ten strong.
It had just launched Channel 5, its formative client (Robert Saville had left to start Mother having been unable to take on the account at GGT). When Mooge arrived, Mother had recently won Magic fm and Super Noodles.
The agency and Mooge seemed to hit their stride together. He stayed for the next ten years, working on what are now regarded as legendary campaigns. Personal favourites include two outings for a mangy-looking knitted monkey (as the face of ITV Digital followed by a subsequent homage campaign for PG Tips) plus the agency's Pot Noodle work. "It's the sort of classic brand that you get into advertising to work on," he reflects.
His formative influences are hardly surprising. They are: "Robert Saville and [Mother's joint creative director and founding partner] Mark Waites. In no particular order. Actually, in that order... Robert gets really competitive."
Then, realising that ten years is a long time to spend in any job and fearing that he was in danger of going stale, he decided to take a sabbatical for six months, going travelling with his wife. When he returned, he went freelance but then decided it was worth making more of all that priceless Mother experience. "I met the guys just months into Work Club - and they had a place at the table for another partner."
It was too good an offer to resist, especially as the whole nature of the venture reminded him of the early days at Mother.
So he doesn't hold to the view that taking time out is a risky business from a career perspective - even in today's climate. "As a creative, you are always in danger of beginning to repeat yourself and when you do, maybe it's time to stop doing it and have a look at the world. I knew I had to do something different. I probably wouldn't have made a move to embrace digital in the way I have if I hadn't taken a step back."
LIZH's managing partner Liz Harold agrees: "He returned from his travels with a much clearer mind - and before joining Work Club he also involved himself in some interesting projects."
A fresh perspective has also fired him up with enthusiasm and optimism about what the future may hold for the business. People with genuine talent and confidence in their ability are always likely to make a mark, whatever the business climate, he suggests.
And he absolutely agrees with her that people shouldn't believe that sitting tight is the only real option these days. Fortune favours the brave, he implies. But, tellingly, he doesn't think that advertising's new structures should be fragmentary.
For instance, he doesn't believe in virtual collations of semi-detached freelancers. "The best agencies are big gangs," he avers. "You want a load of people coming through at the same time, getting experience together, competing and trying to win awards - but it should be a healthy competition. In the end you want your friends to do well too."
So, yes, Mooge freely admits that he continues to be a supreme optimist. "It's exciting because I don't know what the answers are any more. Consumers are behaving in ways that are far more difficult to predict. So smarter ideas are more important. It's about behavioural ideas - about understanding consumer actions rather than just their habits."
And he concludes: "The talent pool has never been so interesting. The young talent we meet have strategic ideas and then think of ways to execute them - every sentence seems to start with 'wouldn't it be cool if...' To me, that's the best sort of sentence."