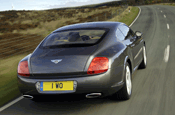 Bentley is understood to be in talks with at least three undisclosed agencies, as the prestigious car manufacturer reviews its future digital strategy.

Global Beach, the incumbent agency, has a contract with Bentley that comes to an end next year.

At the end of last year, Bentley said it was planning to overhaul its global brand strategy in an attempt to strengthen its position in the luxury car market.

Tough economic conditions have seen Bentley's sales fall in recent months.

Global sales are already down by 16 per cent this year, and the brand expects sales fall a further 15 per cent by the end of the year.

The drop in sales has worsened in recent months.

A spokesman for Bentley confirmed that it had called an independent review of the future of its digital strategy but said that no changes to the digital account would be considered until next year.