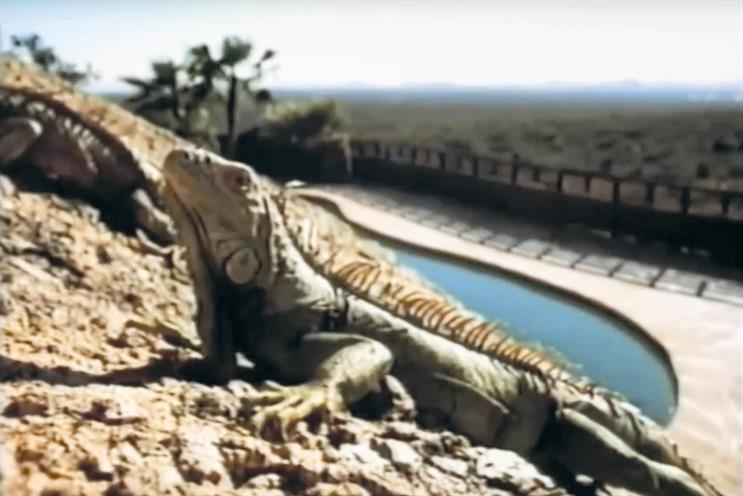 'Pyramid' and 'Iguana'
Collett Dickenson Pearce / 1977 and 1978
Sometimes restrictions and tighter briefs can lead to better work. Collett Dickenson Pearce had held the Benson & Hedges account for several years and already made the "gold box" central to the campaign. But tobacco advertising was under threat due to new restrictions.
Step forward several people: account lead John Ritchie, who decided they needed something completely different; art director Alan Waldie and copywriter Mike Cozens, who came up with something completely different. There was a safer route on the table. Step forward managing director Frank Lowe, who shared both options with former creative director Colin Millward and took his advice. Step forward photographer Brian Duffy. The rest is history.
The surreal images were so ahead of their time – fresh, but still relevant to the iconic gold product. The sign of a great campaign is that others can take the idea on and run with it. The "Pyramid" execution came later, once the campaign was up and running – this time art director Neil Godfrey and copywriter Tony Brignull used photographer Jimmy Wormser to capture one of the classic images of the series.
A little while after the campaign broke, a brief landed on the desk of Waldie and Cozens asking what this campaign would look like in film. Shot by Hugh Hudson, for what was considered crazy money at the time, a cinema ad broke that I went back to the cinema to see again. It was worth every penny. Surreal, yes, but also classic storytelling ending in another poster.
No idea which came first, the poster or the film, but there are few times in this industry when everyone sits up and takes notice. This was one such moment. Our business needs giant leaps forward to remind us of what is possible. Great work challenges and is as much about how it makes you "feel" as it is about what it says.
Tony Davidson is executive creative director at Wieden & Kennedy London