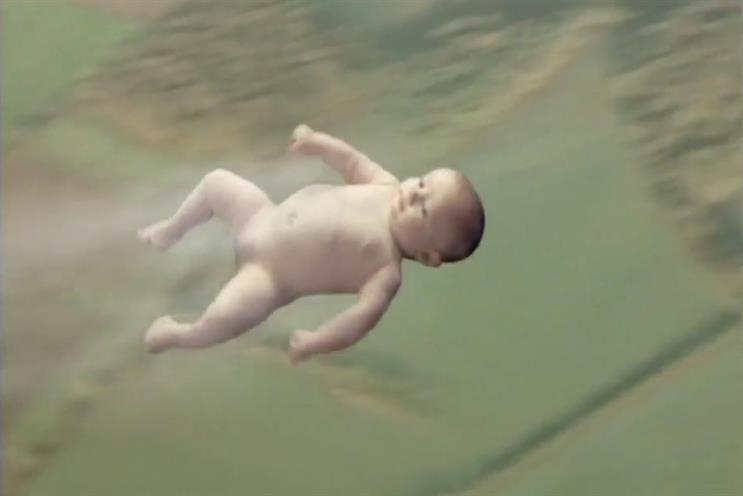 'Champagne'
Bartle Bogle Hegarty / 2002
March 2002. Six months after 9/11 and the world's become a different place. Al-Qaeda has made the IRA look like the cast of Father Ted. People are scared. Brands are terrified.
I'm (probably) sitting (at night) in the library at Watford College, when someone drags their 400lb A2 portfolio case towards me with a whispered: "You have to see this ad."
We sidle over to a college computer (smartphones don't exist) and log on to Kontraband (YouTube doesn't exist). A quick click, a long wait (broadband doesn't exist) and the video starts.
A woman in labour screams. So far, so adland. But then, oh God, what's happening here? The baby is fired cork-like from aforementioned lady's bottle neck. The umbilical cord snaps, the hospital window shatters. Flying through the air our baby goes from 0-100, both in terms of speed and age, before doodlebug-whistling as an old man into a waiting grave. Fifty seconds after his birth. Cut to black. Life is short. Play more. Xbox.
Silence in the library (obviously). What a film. Simple. Daring. Funny. True. And, above all, timely.
Xbox looks as cool as PlayStation. Gaming looks like a legitimate mass-market pastime, not the preserve of darkened bedroomed, teenaged onanists. And world events only help to land the "life's too short" point. Daniel Kleinman and Bartle Bogle Hegarty at the height of their powers.
Matt Lever is chief creative officer at BMB