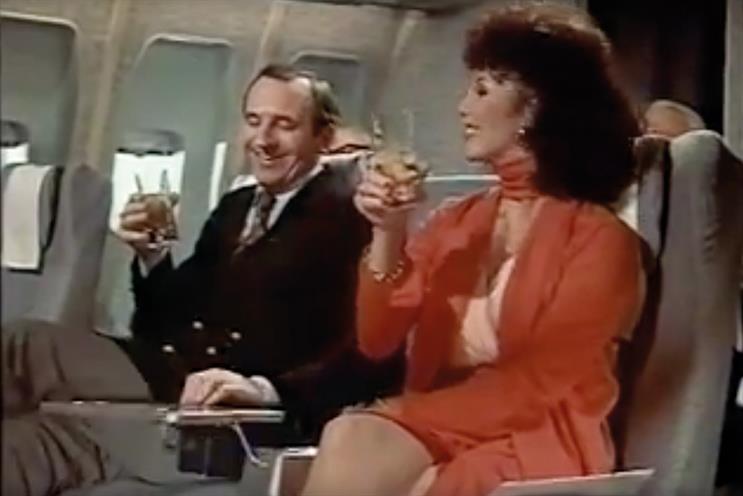 'Collins-Rossiter – airliner'
Collett Dickenson Pearce / 1978
As dated as this ad may look, I can't help but love it. It's simple and it's silly, but it's gloriously self-aware. Collett Dickenson Pearce created 10 of these drink-spilling ads that spanned the late 1970s and early 1980s, each time placing the same two protagonists in a different location but always culminating in an increasingly annoyed-looking Joan Collins getting drenched in Cinzano.
It plays on a pseudo sophistication and an illusion of luxury that the brand knew its consumers revelled in. In essence, the work tapped into the sitcom format; we know the characters, we know the joke, very little surprises us, and yet we laugh every time.
But the simplicity of this ad and the rest of the Cinzano sketches shouldn't detract from its brilliance or the skill it took to create. It comes from a golden age of British advertising, with directing from the legendary Alan Parker and the inspired choice to cast the brilliant Collins and Leonard Rossiter.
Most of all, it delivers as an ad. The product is there straight away, and the audience is waiting for the moment to laugh. We may feel slightly guilty for laughing but we do anyway – and we look forward to the next time we'll hear about that "subtle blend of herbs and spices".
Kate Stanners is global chief creative officer at Saatchi & Saatchi