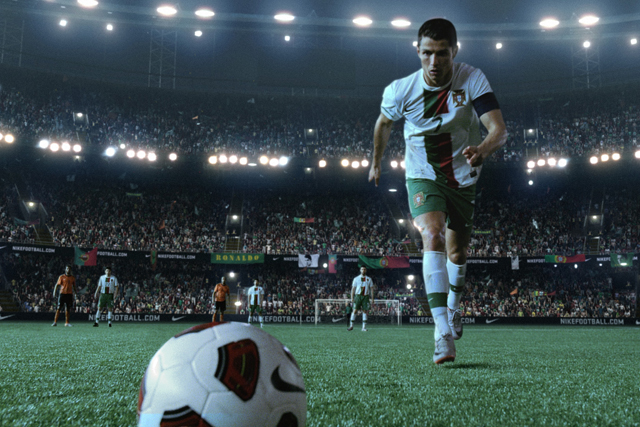 FILM - JUSTIN TINDALL, EXECUTIVE CREATIVE DIRECTOR, LEO BURNETT LONDON
It seemed the only people surprised by Nike's epic "write the future" picking up this year's Film Grand Prix were the press.
In an extraordinary UN-style press conference, the jury were repeatedly asked why Volkswagen's "Darth Vader" hadn't been selected instead. One journalist even suggested that the spot was a more worthy winner because it had run this year, whereas Nike's was from 2010.
In truth, the VW piece wasn't even a contender. A very strong gold certainly and perhaps a victim of its own levity, but when it came to the Grand Prix the discussion focused on three weightier pieces: "write the future", Puma's "after hours athlete" and an astoundingly visceral internet trailer for the videogame Dead Island. I presented the case for Puma: a great idea, beautifully written and flawlessly directed; above all, a game-changing piece of work for a sports brand that has sidestepped its mighty opposition so elegantly by creating its own category. That said, it was difficult to argue against the tour de force that is "write the future". The fact that there are so many ideas within it and that it presents local stories on a global scale so effortlessly is an extraordinary creative achievement and one that deserves recognition.
Other highlights included a series of spots from New York independent Johannes Leonardo for Google Innovations. These were brilliantly convincing "user-generated" product demonstrations that didn't feel like advertising. No logo. No endline. Just a brand that is so deeply integrated into world culture that it can be woven seamlessly into its ad content.
"Why no British golds?" the journalist from the UK asked. Many theories and excuses ran through my mind. But in the end, I found myself saying: "We just weren't good enough."
MEDIA - LINDSAY PATTISON, CEO, MAXUS UK
The sheer volume of work entered this year into the Media Lions leant truth to the fabled "five days locked in a basement". The 30 judges from around the globe had 2,900 entries to sift through - a 34 per cent increase on last year.
So how do you cut through? The entries are split into three areas: insights, execution and results. To kick off, please have a meaningful insight; "young people like music" does not count. The second lesson was to ensure that the media enhances the creative idea in an accountable way, or the media execution should be the idea itself (see L'Oreal's "Times of India" gold winner). Many entries came from creative agencies - fine, but they often showed a lack of media strategy, which meant they could get dismissed as "just" great creative. And finally, crucially, if you don't have robust results and a clear context, forget it. It sounds simple, but it was incredible how many entries lacked this.
Key themes emerged from the blurring of the virtual and physical worlds, and this played out in the fact that we didn't award any Lions in the online category. Why? Online formed a vital part of almost every entry, so to judge it alone felt obsolete. Next year I'd be surprised if the category exists.
We got a tiny bit bored of stunts replacing great central ideas or insights. The formula seemed to be: "Film an event, turn it into an ad, seed the footage, make it social." Yawn, after a while.
The Grand Prix winner, though, was a brilliant media idea that solved a business issue and was based on a real consumer insight. It also combined one of the oldest media, posters, with one of the newest, mobile. Cheil Korea used backlit posters to create virtual Tesco stores in the subway; the displays were realistic renditions of the real things and had QR codes for smartphones to scan. The groceries were then delivered to customers' homes. Smart.
CYBER - DAVE BEDWOOD, CREATIVE PARTNER, LEAN MEAN FIGHTING MACHINE
They came from all over the globe, to judge, to discuss, and to award. Different cultures and viewpoints, creating a fresh, stimulating atmosphere.
It also created an environment that allowed digital's (or "cyber", as it's known en Provence) biggest problem to thrive: bullshit. This bullshit isn't fresh; it's mutated over time into the all-encompassing awards video that we each know and make. One video claimed its results were so good they'd gone beyond measurement; which, considering we can measure the Big Bang, deserves a Grand Prix in hyperbole.
Our diverse jury, galvanised by our steely headed president, Nick Law, had to spend even more time than usual doing detective work, dissecting these videos and informing each other of the truths behind the claims. Add to this the huge number of categories and the opinions on what actually constitutes a cyber entry - and the result is confusion. But this confusion is the very engine of cyber's greatness: nobody knows what is going on or what will happen. It creates energy. Work can be great for so many reasons, the answers are as endless as a Gutter Bar receipt.
Which is why there had to be three Grands Prix - one piece of work couldn't live up to the enormous breadth of talent in this industry. Great writing in Wieden & Kennedy Portland's Old Spice "response campaign", the use of tech and design in Google Creative Lab's The Wilderness Downtown film for Google Chrome and Arcade Fire, and an attempt to mess with the fabric of how we transact online from R/GA New York's "pay with a Tweet" campaign for Innovate Thunder. There are always some contentious choices, but nevertheless this year showed how brands can exploit cyber in so many ways. They just need to keep investing plenty of trust and money. And for now, at least, my agency won't be accepting Tweets.
PRESS - JEREMY CRAIGEN, EXECUTIVE CREATIVE DIRECTOR, DDB UK
Well, it was another pretty shocking year for UK agencies in Press with only two Lions being awarded to them out of a total of 95. A medium we once dominated is now being taken over by countries such as Malaysia, Peru and the United Arab Emirates.
My one major gripe about this work is that none of it seems to reflect the culture it has come from and that it all has such a global look to it that you know who the real target market is: me, the awards juror.
Having got that off my chest, I thought it was a pretty good year in terms of quality and a pretty good jury in terms of fairness and thoroughness, ably chaired by Tony Granger.
My observations of the work in general? What has happened to the alcoholic drinks category, with only four ads on the shortlist and no Lions?
And restaurants and fast-food outlets with nothing on the shortlist? I can't believe McDonald's didn't make one decent press ad in the whole world last year.
Entertainment and leisure was looking much stronger, with one unlucky agency missing out on gold as we discovered the same idea had been done a couple of years back, albeit not nearly as well.
My personal favourites (and I know this is going to contradict what I said earlier) were an ad for Avis luxury car rentals depicting its vehicles outside a school reunion party; a campaign for Tabcin cough mixture; and a very simple piece for an organic insect repellent, Shieldtox. As for the Grand Prix winner, Samsonite, it was a clear favourite from day one. A beautiful insight, wonderfully executed. It came from China.
It so easily could have been from the UK ...
OUTDOOR - ED MORRIS, CREATIVE PARTNER, RAPIER
It was the final moment in a long five days of judging. The results were slowly revealed with the unfolding of each vote written on a small note. Droga5's "decode Jay-Z with Bing" led from the off. The jury were unanimous. It's nice when that happens. No disputes, no protracted debate.
So what made it so great? First, it appeared to be for two clients and not one. We discussed this. It seemed to blur the boundaries between advertisers. Bing gets to borrow interest massively from Jay-Z. And Jay-Z gets to use Bing's technology for promotional gain. This alone made it fresher, more interesting than the rest.
Then there was the idea, a simple one. You take a page from Jay-Z's autobiography and stick it in a place relevant to the writing. It's a big idea, and one that is naturally outdoor. It really pushed the medium. The work was also beautifully crafted in every way. There were pages of the book sewn in to Gucci jackets, printed on the bottom of the Delano swimming pool, on rooftops, cars, plates etc.
All of it looked stunning.
Other contenders for the Grand Prix were Google's mobile search app, Target's "kaleidoscopic fashion spectacular", Tesco's virtual store and "the 250km wave" for the Kyushu Railway Company. All pieces of work were groundbreaking, way ahead of the pack and worthy of awards.
I judged the same category at Cannes five years ago and the best of 2011's entries is lightyears ahead of what won back then. Things are moving fast. Outdoor is a category that demonstrates the vision and possibility of the new world we live in today. The best of it was experiential and formed a seamless journey from the broadcast to the digital environment. In doing this, the category transcended the individual power of any one medium. Very exciting and inspirational work indeed.
CREATIVE EFFECTIVENESS - RUSS LIDSTONE CEO, EURO RSCG LONDON
It was a great honour to be asked to become a member of the inaugural Creative Effectiveness jury, chaired by Jean-Marie Dru. A heavyweight panel assessed 43 papers, whittled down from an original 140-plus that we had assessed over the previous weeks. There was a significant onus on this jury to set a precedent for the new award, ensuring that the relationship between creativity (shortlisted or Lion-winning work from 2010) and business results were joined up.
The nature and style of the papers from around the world varied significantly, highlighting the need for principles to be clearly laid out (in a white paper to be published later this year) to ensure better proof of effect for 2012 onwards. This was a tough, maybe even brutal, jury. Plenty of debate. Little benefit of the doubt given. Every case dissected with data and appendices scrutinised. There's no doubt a huge number of the 43 papers showed business effects, but not all of them proved the case for that award-winning work in relation to other factors such as new product launches, discounting, etc.
Lions were awarded only to those papers that largely isolated the impact of the work, and the Grand Prix awarded - to Walkers' "Sandwich" campaign, by Abbott Mead Vickers BBDO - because it is an irrefutable case for how creative marketing communications delivers against well-defined business objectives. No blase assertions or reliance on social-media efficiency arguments. When it came to awarding the Grand Prix, it was a remarkable 17-1 vote in favour. Little argument there.
This award was also a real demonstration of how the world-class IPA Effectiveness schooling has given the UK a head start in forensically proving a case. Next year will be quite different, I suspect.
Hear more about AMV's Walkers campaign at Brand Republic's BrandMax event in September
DIRECT - SIMON ROBINSON, INTEGRATED CREATIVE DIRECTOR, KITCATT NOHR DIGITAS
Just as every techie wants to crack the Facebook algorithm, so every responsive creative wants to uncover what makes their Cannes jury tick. Well, it isn't a mysterious set of equations. It's one question: how is it direct?
The campaign that won the Grand Prix in this year's Direct Lions is direct in the truest sense of the world. It demands a response from anyone who encounters it. Usually, when people speak of marketing communications as "brave", they are guilty of hyperbole. But, in this case, there is no exaggeration at all.
Consider the brief: Rom, an ailing Romanian chocolate brand, launched at the height of the Cold War and wrapped in the national flag, is struggling to prove its relevance in the 21st century. Sales are falling along with national pride - there seems no alternative but to give up hope.
Is that what our plucky former Communists do? Oh no, it isn't. They decide to combat the competition head on. They rebrand, replacing the Romanian national flag with the Stars and Stripes. They launch TV ads, fronted by an "American" with Romanian subtitles, explaining how the US is coming to the rescue. And out-of-home executions feature messages that might be described as "provocative", such as: "Patriotism won't feed your hunger." The result? Outrage. Protests in the streets, Facebook opposition groups agogo, and a sales graph that shoots off the page.
Which is rather lucky, considering how difficult it is to see the strategy that would have allowed the brand to row back to its previous position.
That's what makes this work, by McCann Erickson Bucharest, so brave - and such a worthy Grand Prix winner. Rom took a risk and bet everything on it. While that still happens, there will always be hope. Now that's what I call direct.
RADIO - WARREN HAMILTON, CEO, WAVE STUDIOS
Being a seasoned veteran of studio life, the thought of sitting in a darkened room listening to countless hours of audio didn't scare me one little bit. Having said that, after the initial 1,500 spots and almost 20 hours of earphone activity, I must admit I'd begun to wink sporadically like Herbert Lom's Inspector Dreyfus, and although the workload was heavy, at least the spots were entertaining. They were entertaining because of great writing, but also, for me, in the sense that they were fresh and I'd hardly heard any of them before. And because of that, no UK commercials made it into the final shortlist of 138 spots. Yes, read that sentence again before it finally sinks in.
In fact, from the 1,500 entries, the UK counted for only 43. That's less than 3 per cent, closely following the mighty radio giants of Costa Rica and Lebanon.
So why is this? Do we really not care about radio any more? Do we think it's an outdated medium reserved for junior teams or copywriters with nothing better to do? Maybe we don't think radio is fun, a trifle boring compared with cyber campaigns or the 3D world of digital media, and not worth entering into Cannes. Sadly, perhaps the answer is far simpler. Maybe we're just not very good at writing and making radio ads any more.
The common theme was simple. No gimmicks, just great writing and, with anything, a darker edge. The Grand Prix winner was a series for Mercedes-Benz out of Network BBDO Johannesburg. Three beautifully crafted and introspective spots from the mind of a traffic-accident victim. Other great standout work was the hilariously straight and slightly insane piece for Ichitan out of Y&R Thailand; Hamburg's Grabarz & Partner's campaign for the Modern Music School; and Ikea's "kitchen installation" spot from Three Drunk Monkeys.
Listen to them. If they don't get your creative juices flowing, then nothing will; and if you want a new, rather nicely crafted doorstop in one of three different colours, I suggest you sharpen your pencils and start crafting.