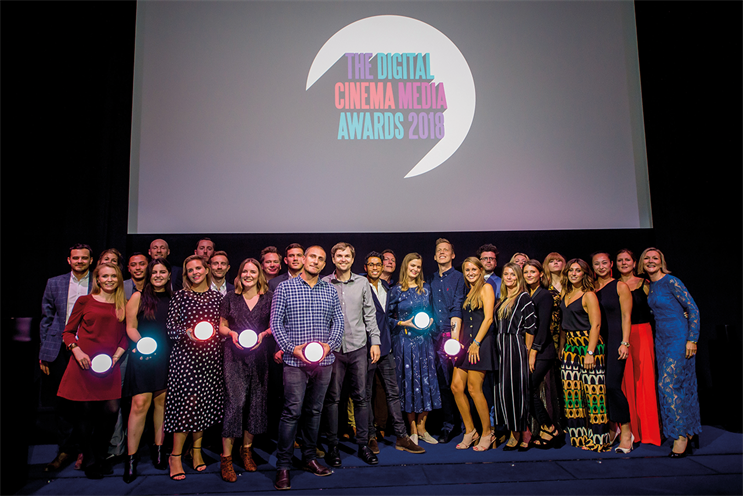 Six campaigns have emerged as stellar examples of how UK cinema can turn up the volume for brands and transfix an audience. They are the winners of the 2018 Digital Cinema Media Awards, run by Digital Cinema Media in partnership with Campaign. These awards aim to recognise and honour the best cinema advertising of the past 12 months and were celebrated at a red carpet party at London's Ham Yard Hotel.
A record number of entries was tussled over by an eclectic panel of exacting judges and met with feisty interrogation and an energetic interest in the outer reaches of what cinema can do for brands in 2018. "Most impressive is how brands have really embraced cinema beyond just placement in the ad reel, truly maximising new innovations in the space," said Karen Stacey, CEO of DCM and one of the judges. Claire Beale, chair of the judges and global editor-in-chief of Campaign, said the past 12 months showcased "another year of dazzling work: from richly sophisticated strategies to exciting technical innovations, from between-the-eyes impact by big cinema spenders to smart-beyond-their-years thinking from newcomers."
Grand prix: Best use of cinema (Large)
'Max Factor Putting a spotlight on the leading ladies of cinema' COTY Consumer beauty UK/Zenith Media
Max Factor joined with Twentieth Century Fox, DCM and Recipe to create bespoke content, recreating the looks of female leads in 2017 blockbusters Murder on the Orient Express and The Greatest Showman. In a media first, the brand partnered with Picturehouse, Everyman and Curzon in on-and-off-screen activities. Max Factor was the number one selling brand in self-select cosmetics over December. This was a "stand-out favourite" among the judges, who praised its "deep integration".
Highly commended: The Ultimate Quiz-A-Long with Now TV; Now TV /MEDIACOM
Best newcomer to cinema
'Super surprising squidgy sampling' Soreen/Goodstuff
Soreen Lunchbox Loaves moved its TV spend to cinema, becoming the headline sponsor of Odeon's Kids Club and incorporating sampling week-ends across DCM's highest footfall family screens and across 180 Odeon Kids Club screenings. Perceptions of the brand shifted within months from that of an old-fashioned loaf to a modern family snack. The judges were impressed with the idea, the execution and its "impressive scale."
Best use of cinema (Small)
'Driving football from foyers to bars' Kobbarberg/Goodstuff
Kopparberg combined brand building and a call to action with a cinema ad followed by a mobile voucher to encourage movie watchers to visit the pub afterwards. The campaign brought 23,096 incremental customers to Mitchell & Butler outlets and made Kopparberg the second biggest alcohol brand among 18-24 year olds. The judges said "cinema's role sang through".
Highly commended: 'Far Cry: A Staggered Story'; Ubisoft /Wavemaker
Best long copy cinema campaign
'Nike Nothing beats a Londoner' Nike/Mindshare
Cinema's big screening to a highly engaged and captive audience played a crucial role in the media plan for this celebrated ad which aimed to reconnect 16-24 year old Londoners with the Nike brand. Mindshare booked the premium Silver Spot in Black Panther across DCM's London estate during school half-term. Within two weeks, there was a 200%-plus increase in Nike brand mentions in some London boroughs. The judges lauded the "clever use of budget, leveraging the latest targeting capabilities."
Best use of innovation in cinema



'Sky trailer spot' Sky/MediaCom
Sky was the first advertiser ever to appear within the trailer reel, for the release of Britannia, a Sky Original drama launch for 2018. It entailed Sky, MediaCom and DCM working closely to overcome hurdles and manage stakeholders. The result? Britannia made its debut as the biggest new series launch on Sky's channels for more than three years, with high recognition of 22% for cinema. The campaign showed "courage and real thought into how to use cinema differently," the judges said.
Highly commended: 'First Aid Kit'; Columbia Records / the7stars
Best 'marketing for good' campaign
NSPCC 'Messathon' NSPCC/OMD UK
The NSPCC and OMD used the attraction of cinema screenings in the Easter school holidays to encourage sign-up to the charity's Messathon in the local area. An affinity to a children's fundraiser and a local interest made movie-going families a prime target with on-screen and in-foyer activities. The campaign outperformed the fundraising target by 7% and over-delivered by 18% on the 1001 participants for Messathon Surrey. A "brilliant example of effective use of local targeting," said the judges.
Highly commended: 'Pretty Curious x Star Wars: Together We Are a Force to Inspire Young Girls into STEM'; EDF Energy / Disney, Havas Media
The Judges
Claire Beale chair of judges and global editor-in-chief, Campaign
Billy Faithfull chief creative officer, Engine Group
Davina Barker sales director, Digital Cinema Media
David Grainger, head of investment, Starcom
Ed Smith general manager integrated marketing EU, Amazon
Graeme Adams media director, BT
Karen Stacey CEO, Digital Cinema Media
Kerry King director and head of investment, MediaCom North
Kevin Chesters chief strategy officer, Ogilvy & Mather UK
Michael Florence chief strategy officer, PHD UK
Nick Baughan EMEA CEO, Essence
Philippa Brown CEO, Omnicom Media Group
Pippa Glucklich CEO, Amplifi UK
Sally Weavers founder, Craft Media London
Stephanie Marks managing director, Havas Media UK
Tom Firth managing director, M&C Saatchi London