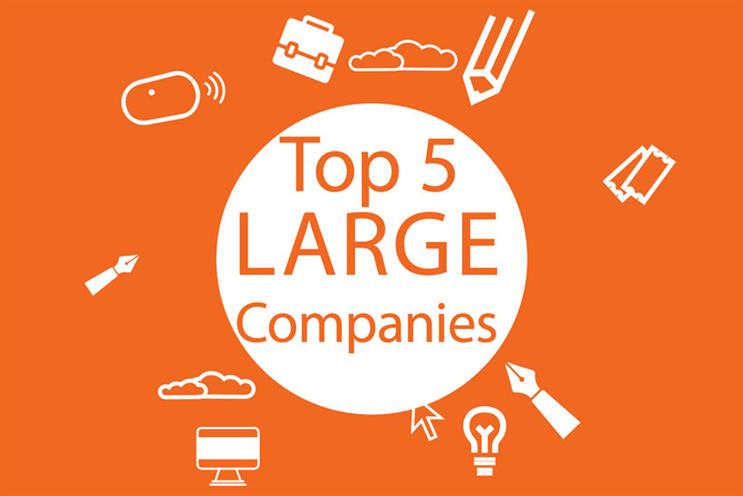 Proximity London
1
Ad agency, London
UK employees: 206
Average wage for salaried staff: £53,664
Gender split: 40% male, 60% female
Proximity London encourages its employees to be courageous in their roles: those who can demonstrate a true act of "bravery" in line with the agency's values are acknowledged at an agency-wide meeting, receiving a trophy to adorn their desk and a £150 gift voucher. The Southwark-based shop runs quarterly creative but non-work-related classes under the "Wazegoose" banner to broaden the horizons of its talent. Recent examples include alfresco life drawing, balloon modelling, caricature drawing, a comedy class, origami lessons and sign writing. Huge bi-annual fancy dress parties, supper clubs and monthly themed nights – from prohibition to Halloween – ensures a lively social calendar, while the stresses of the working week can be dispelled with free in-house massages. Financial perks are also available: Proximity's "Red Envelope" recognition scheme empowers managers to reward team members at any time with "Proximity pounds" worth between £25 and £100, which can be exchanged for gift vouchers.All-staff Christmas bonus vouchers of up to £100 are another popular treat.
the7stars
2
Media agency, London
UK employees: 150
Average wage for salaried staff: £46,264
Gender split: 51% male, 49% female
At the end of a tough month, staff at the7stars can at least look forward to a treat in canine form. Office dog and "ambassador of happiness" Florence takes monthly trips into the agency's Aldwych headquarters with the aim of improving happiness and well-being. The agency, which famously eschews job titles for all but the most senior of staff, also rejects timesheets, and offers staff "unlimited" holidays – as well as a dedicated "the7stars bank holiday" and annual ski trip. Innovation is rewarded throughout the business: anyone can pitch an idea during the weekly company meeting, and those that are implemented lead to a cash prize. Employees are also encouraged to nominate colleagues going above and beyond the call of duty for a prize in the form of "Well-being Wonga", with treats from manicures to massages. The agency retains a keen emphasis on its seven core values, and recognises staff on the basis of achievement against categories such as "clients come first", "do the right thing" and "be an entrepreneur".
The Specialist Works
3
Media company, London
UK employees: 166
Average wage for salaried staff: £44,814
Gender split: 43% male, 57% female
The Specialist Works has committed itself to helping staff manage their everyday lives alongside the requirements of their role. A discretionary 30 hours per annum is allocated to each employee, to be taken in 30-minute increments for healthcare, childcare and other unavoidable appointments. Those in early can fuel up for the day with free breakfast, and take an afternoon break in the form of a spot of table tennis. Twice-yearly "STRAT Days" offer an opportunity for the whole business to escape the hubbub of its north London headquarters, and to share ideas for the future strategy of The Specialist Works – as well as an excuse for a party. Those surpassing the 10-year mark are feted with a celebratory dinner and a bottle of Champagne. However, like many companies in the space, it has more to do on the diversity front: the majority-female agency is led by a 100% male executive team, and it currently has no programmes to actively recruit and retain ethnic minority, disabled or aged talent.
Adam & Eve/DDB
4
Ad agency, London
UK employees: 429
Average wage for salaried staff: £62,005
Gender split: 45% male, 55% female
Adam & Eve/DDB is determined to treat its employees as well as it treats its clients. Staff at its Paddington offices benefit from a generous well-being package, offering complimentary access to an on-site doctor, physiotherapist, ergonomics specialist, nutritionist and exercise classes. The company – Campaign's Advertising Agency of the Year 2017 – is also serious about beverages, with trained baristas serving coffee of its employees' choice during the day and alcoholic beverages on Friday evenings. Another advantage of working for the company is its Eden Fest, an annual all-day summer festival open to all employees with a busy line-up of live music, craft workshops and guest speakers. The agency is determined to improve its inclusiveness with "adam&everyone", an ongoing diversity programme, while all participating staff have the opportunity to win up to £500 through its charity lottery. A more readily attainable goal may be the agency's "Legend of the Week" prize, where employees nominate people they believe have gone the extra mile for the company.
Mother London
5
Ad agency, London
UK employees: 156
Average wage for salaried staff: £64,000
Gender split: 47% male, 53% female
Mother's location comes with immediate benefits: all staff are offered discounted guaranteed membership at Shoreditch House on the top floor of the agency's east London building, as well as at all Soho House Group clubs. Alongside providing tasty daily lunches and throwing memorable parties for its youthful team – more than three-quarters of employees are millennials – the agency has a unique approach to workplace flora and fauna. Guided by the philosophy that animals and plants reduce stress and make an atmosphere more welcoming, dogs can often be found sniffing around the office, while employees can take a break in a floral nursery. Staff are offered a £1-a-day "wellness fund", and encouraged to soak up whatever sunshine is on offer during the British summer with half-day Fridays during the warmest months. New-business success is toasted with a team dinner and even a night at Babington House. Loyal employees can also expect to enjoy longer breaks, as their holiday allowance increases by one day with each passing year of service.