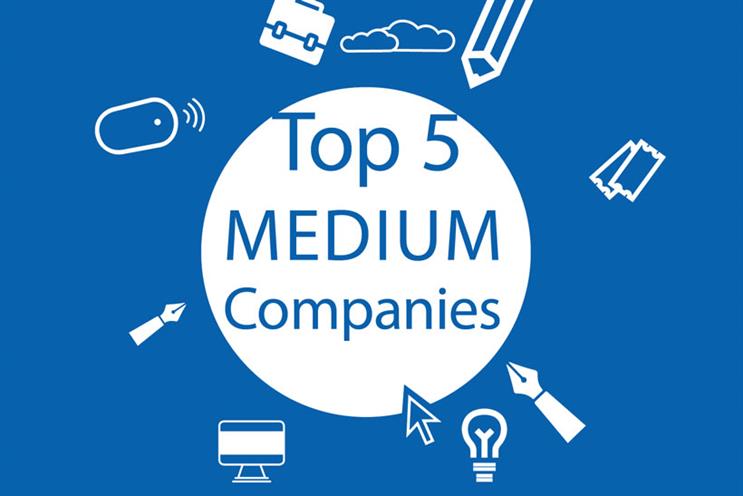 Talon Outdoor
1
Media company, London
UK employees: 91
Average wage for salaried staff: £51,000
Gender split: 38% male, 62% female
There are no excuses for a poor lifestyle while working at Talon Outdoor: the out-of-home specialist meets half of the cost of any activity that helps employees to thrive physically and mentally, including gym memberships, chipping in up to £40 a month. Staff can make the most of "Talon Tuck", a range of free breakfast foods, and relax during a well-earned massage when a therapist visits its Rathbone Place office each month. The agency offers free pilates and yoga classes for "Monday Motivation" and a monthly all-staff fitness class on a Wednesday. The sports world has inspired its performance recognition initiatives, as well: every two weeks, members of the planning teams receive the "Yellow Jersey" to mark unforecasted campaign success. Healthy living aside, diversity is another priority, and Talon offers a range of programmes to recruit and retain staff from varying ethnic and cultural backgrounds, as well as those with disabilities and older talent. However, the company has more work to do on the diversity of its senior leadership: despite female staff outnumbering male counterparts nearly two-to-one, Talon's executive team is 100% male.
St Luke's Communications
2
Ad agency, London
UK employees: 50
Average wage for salaried staff: £58,340
Gender split: 44% male, 56% female
New joiners at St Luke's have the opportunity to immediately ingratiate themselves with colleagues, as they are offered £100 to buy a gift for their co-workers, from appetising treats to a ping-pong table. Employees are encouraged to develop themselves further with the "Make yourself more interesting" fund worth £200 a year, for learning projects both in the UK and abroad. One of the St Pancras-based agency's planners used the funding to train to become a yoga instructor and now teaches a class every fortnight. Those who prefer group learning can wait for the annual St Luke's Day celebration, where staff are taught a new skill, most recently cooking. Other recreational benefits at the company include "Friday nibbles", with a free bar and snacks every Friday at 5pm, and the agency's "Ox Olympiad", a light-hearted sports day contest including egg-and-spoon races and one-armed Pimm's-making. In terms of more tangible rewards, an equal percentage of salary is distributed in the form of a profit share if financial targets are met.
Brainlabs
3
Digital marketing agency, London
UK employees: 132
Average wage for salaried staff: £26,000
Gender split: 51% male, 49% female
For employees at Brainlabs, located a stone's throw from London's Old Street roundabout tech hub, workplace flexibility is more than just a buzzword. Staff can set their own holiday plans, and take unlimited amounts of leave as their workload allows. They can also pick working hours to suit their lifestyles. The focus is very much on teams, rather than individuals. While individuals may be picked out and celebrated during company updates, it is successful groups – from pitch winners to client teams – that are rewarded with experiences and days out. Employees can refresh themselves with daily exercise classes, including football, tai-chi, boxercise, zumba, pilates and ceilidh – even laughing yoga. Those seeking greater intellectual stimulation can attend Brainlabs' daily "Internal Learning" sessions, where a member of the company holds a talk on a topic of their choice, from fitness and well-being to workplace productivity. One recent remarkable session offered a guide to performing the Maori haka war dance beloved of fans of the New Zealand All Blacks rugby team.
Direct Line Group Marketing
4
Brand marketing division, Bromley
UK employees: 132
Average wage for salaried staff: £46,000
Gender split: 40% male, 60% female
Despite its ownership of major national insurance brands, Direct Line Group seeks to foster a family atmosphere in its marketing team, hosting an annual "Kids Christmas Party" on the last Friday before the festival holidays. Alongside training and development opportunities, staff at the company's south-east London offices also benefit from flexible working and an emphasis on "fun culture". The company is focused on diversity, with programmes in place to boost the recruitment of non-white, disabled and older talent, guided by its Diversity Network Alliance scheme. Strong performance is recognised in both the annual Chief Executive Awards and the quarterly Marketing Leadership Team Awards, with the latter focusing on those who have best "lived [the company's] values". Staff can also make a contribution to the outside world through Direct Line Group's charity committee.
Propellernet
5
Digital marketing agency, Brighton
UK employees: 57
Average wage for salaried staff: £45,000
Gender split: 46% male, 54% female
Situated only yards from the English south coast, Propellernet takes inspiration from its name as a means of talent recruitment and retainment. Everyone in the company can take one day a month for "Propel Days" of professional and personal self-improvement, and anyone having completed their fifth year is allowed to take a month-long paid sabbatical. When the agency wins an award or hits a key target, it likes to make a team member's dream come true by drawing a name from its "Dreamball Machine". The "Fun Ministry" initiative sees 5% of profits dedicated to fun and well-being-focused activities for employees, including parties, workshops and treats. Staff get to enjoy free, all-agency monthly lunches on the Friday before payday, and management take employees on regular trips to the Alps for company-wide celebrations. Propellernet also looks to contribute to its local area by donating time and expertise to the Trust for Developing Communities to help children from less digitally privileged areas of Brighton experience VR.