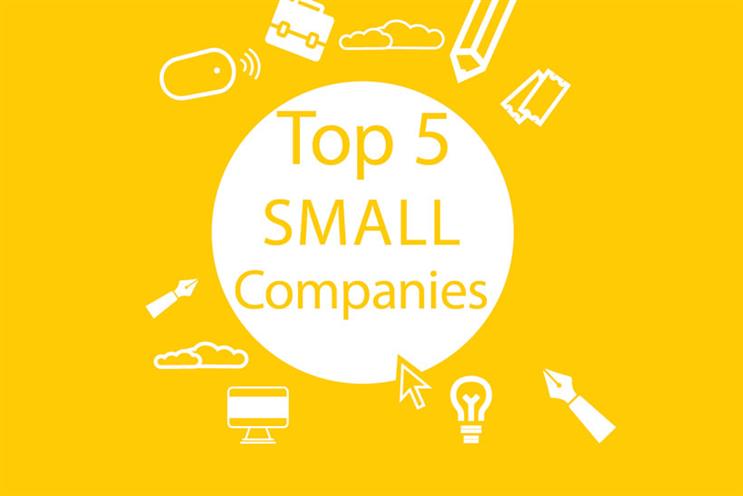 December 19
1
Media company, London
UK employees: 18
Average wage for salaried staff: £41,000
Gender split: 40% male, 60% female
What Bermondsey-based independent media planning and buying agency December 19 lacks in size, it looks to compensate for in happy, healthy staff. Named after the date on which, in 2008, one of the agency founders was made redundant in the thick of the global economic crisis, the anniversary is celebrated each year with a half-day holiday for all staff – a pause for thought about what can be achieved in the face of adversity. Employees benefit from several perks: birthdays are offered as leave, everyone is given a free Fitbit to monitor their well-being, and staff are treated to an annual company trip, such as a recent jaunt to the French Alps. The company pension scheme is a major bonus, while staff are encouraged to keep working hours below that of other agencies – unless they wish to walk one of the many dogs that frequent the agency's Tower Bridge Road offices, that is.
18 Feet & Rising
2
Ad agency, London
UK employees: 26
Average wage for salaried staff: £46,989
Gender split: 57% male, 43% female
At a time when the ad industry stands accused of losing touch with everyday British life, employees at 18 Feet & Rising are encouraged to re-engage with society through a week's paid volunteering. The business has shown its willingness to diversify its recruitment, hiring its first apprentice this year – an 18-year-old school leaver. The Employee Awards offer an outlet for the company's top talent to showcase their best work, taking place during a two-day annual European trip in the build-up to Christmas. The festive period is a particularly happy time for employees – the annual yearbook, complete with photos and jokes, can be enjoyed along with drinks from the office bar and snacks provided by client Popchips. Not to say that celebrations are limited to Christmastime: spontaneous afternoon office closures and mass decamps to the pub have been known to occur a few times a year, especially after wrapping up a big project.
ID Comms
3
Media consultancy, London
UK employees: 15
Average wage for salaried staff: £40,000
Gender split: 47% male, 53% female
ID Comms has developed a reputation for promoting the talent of its employees – starting from the top, with founders David Indo and Tom Denford, whose weekly YouTube show #MediaSnack has long passed its 100th episode. Top performers are feted in Employee of the Quarter and Employee of the Year awards. Based around the corner from London's Old Spitalfields Market, ID Comms has fostered a vibrant team spirit with summer awaydays, Perkbox discounts, "Popcorn Fridays" weekly recaps, and free snacks and drinks on the roof terrace. Employees can engage in passions outside the industry to their heart's content with unlimited holiday allocation. In a sign of the times, ID Comms offers "Brexit Consulting" for current and future staff worried about the UK's impending departure from the European Union.
Radiocentre
4
Trade body, London
UK employees: 21
Gender split: 43% male, 57% female
Perhaps not surprisingly for an organisation focused on the strengths of audio media, Radiocentre encourages its employees to get involved in the production of its podcast series, from ideas generation to on-the-mic interviews. This egalitarian spirit continues in its day-to-day operations, with even the most junior members of staff allowed direct access to senior management. Radiocentre has embraced an ethos of flexible working, ensuring employees are able to balance their personal and working lives. Workplace success is rewarded in the guise of trips to museums and the seaside, as well as more tangible gifts – such as free Amazon Echo devices – when revenue targets are met. Football fans, meanwhile, can secure bragging rights with Radiocentre's annual Fantasy League competition. Long service is also recognised, in the form of an additional five days' holiday upon completing five years' service, as well as the opportunity to take a three-month career break.
ZAK
5
Ad agency, London
UK employees: 20
Average wage for salaried staff: £53,000
Gender split: 52% male, 48% female
Farringdon-based ZAK likes to keep its youthful team engaged with a lively programme of social events, from "epic" summer and Christmas parties – including a recent three-day trip to Ibiza – to its annual inter-agency volleyball tournament hosted in aid of Action for Kids. A monthly Instagram #ZAKcomp contest for "wackiest" photograph tests creativity, while members of the team enjoying a purple patch are toasted with the "Hero of the Month" gong. Quarterly staff parties are major dates in the calendar, and have taken on a number of guises, including rounders, paintballing and "zombie adventure". There is even a Halloween pumpkin-carving competition. Personal development is also a key theme for the agency, and staff can expand their skills through the ZAKademy initiative. Employees sticking around for four years or more can expect an annual treat in the form of a bottle of vintage Champagne and an extra day of holiday, adding up to a maximum of 30 days.