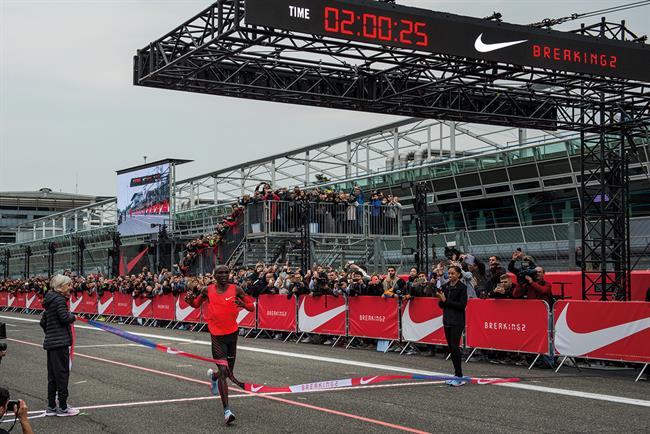 Looking back at the campaigns that got noticed on Twitter in 2017 offers a useful way to examine what works on the platform, as well as broader trends we're seeing.
The best brand campaigns in 2017 were focused around three key components: video, live and simple creativity.
We've recapped below a selection of these campaigns, with some tips from Twitter sprinkled throughout:
Nike #Breaking2: Best use of live
Back in July Nike brought people around the world together in a beautiful live moment, while also setting the standard for a Twitter Live campaign. Aside from the actual challenge of attempting to break the two-hour marathon barrier, #Breaking2 also presented the challenge of building a global audience and driving tune-in within a 48 hour period.
To do this, Nike launched a simple call-to-action that people could Retweet or like to opt-in for a reminder when the race went live, which would give them a personalised prompt to tune in. Using our new premium video player product, it combined a flawless video stream with a rich, emotive conversation, making us all feel that we were right there cheering from the sidelines.


This was crowned Campaign's 2017 Campaign of the Year and was the biggest-ever brand-driven live streaming event on Twitter to date.
Doritos #HeatWillCome: Best use of video
This summer, Doritos' baby dragon took over Twitter timelines to inform the UK about a new product that was launching: Doritos Heatburst. At the heart of this campaign was a dynamic video strategy and a deep understanding of how to work with long and short form content on Twitter.
The hero film launched through Twitter First View, which ensures it's the first piece of Promoted Video content in someone's timeline over a 24-hour period. Once the ad debuted, Doritos used cut-downs from the full ad to continue driving the campaign's momentum.
A scene of the baby dragon in a cinema fused nicely with Twitter conversation around TV. In fact, a cut down of baby dragon dancing was used to comment on a Doritos reference in Ed Sheeran's new single, while various other edits were used to keep the little guy relevant and at the heart of culture.
This campaign was instrumental in generating £3m in UK sales and double-digit value growth across the entire Doritos UK brand portfolio.
Amazon #TheGrandTour: Best use of creators
To raise awareness of season two of The Grand Tour, Amazon partnered with Twitter's creator network, Niche, to send three teams across ten countries in ten days, all powered by Twitter.
Starting in Scotland and ending in Mexico, the three teams had to rally their fan bases to cheer them on by Tweeting, with those Tweets then converted into fuel for the BMW i3 electric cars. With daily challengers and regular video updates from the road, this campaign drove conversation around The Grand Tour and the three teams, resulting in phenomenal levels of Tweet engagement with 12.5 million impressions.
Apple iPhone X: Best use of innovation
Apple's iPhone X campaign showed a completely new way to elevate product benefits by creating video content that was native, bold, and original.
Apple used simple Tweet copy text, drawing the viewer's eyes to the subtitles on the video which were placed directly in the centre and animated for impact.
Apple showcased 36 new features in just eight seconds, encouraging people to tap on the screen to discover more about each one. This type of engagement leveraged the native functionality on Twitter, which allows people to pause a video simply by tapping. Apple also used our newly launched video website format, which allowed users to seamlessly experience deeper product details without having to leave Twitter.
In a world where countless videos are now watched without sound, Apple shows how you can still garner attention and tell your story.
John Lewis #MozTheMonster: Best use of simplicity
After the launch of this year's Christmas ad using Promoted Video, John Lewis wanted to call attention to its online monster maker in a playful way.
Simply using auto-response, the brand invited Twitter users to tap the heart on this Tweet, and by doing so they would instantly receive back one of 50 monsters from John Lewis, as well as a call-to-action to go to the site and make their own.
This was part of a broader campaign which featured an adorable #MozTheMonster emoji exclusive to Twitter, as well as phenomenal community management and personalised video thank yous. As a whole, this campaign shows the very best of Twitter: keep it simple.
Eimear Lambe is head of brand strategy at Twitter UK