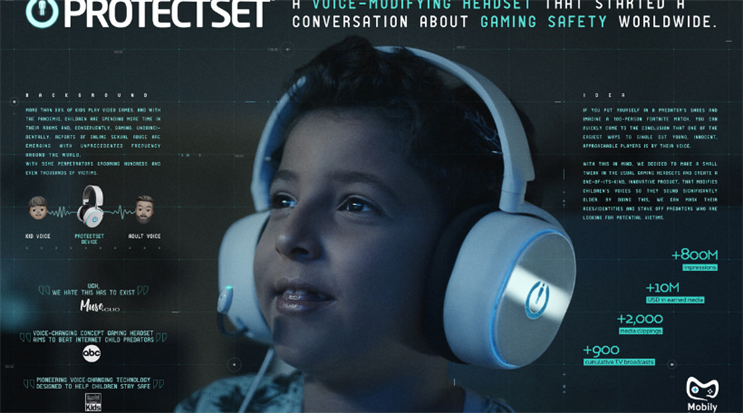 WINNER
MullenLowe MENA
"ProtectSet"
As children spent even more time playing video games during the pandemic, reports of online sexual abuse began to increase significantly. So Interpublic agency MullenLowe sought to create a tech solution to start a conversation abuot how to better protect young people online.
Fuelled by the insight that one of the easiest ways that predators can target young victims is by their voice, MullenLowe made a small tweak to gaming headsets that makes children sound much older.
The six-month campaign began by designing and producing 100 devices that were fitted with voice modifiers that made children sound like adults when speaking into them. After a test phase, the ProtectSet was distributed to dozens of gaming influencers, YouTubers and media outlets.
Within 15 days, the initiative already gathered 800 million impressions, $10m in earned media, over 2,000 media clippings and 900 cumulative TV broadcasts worldwide. Not bad for a campaign that had no media budget.
FINALISTS
PrettyGreen "Three's 5G multi-sensory fashion show and AR model of Adwoa Aboah"
Unit9 "EE BAFTA 5G-powered AR Dress"
Unit9 and BBH Singapore "League of Legends: Wild Rift – Battle of Baron"
VIOOH "Ghost of Tsushima launch using mobile and programmatic OOH"