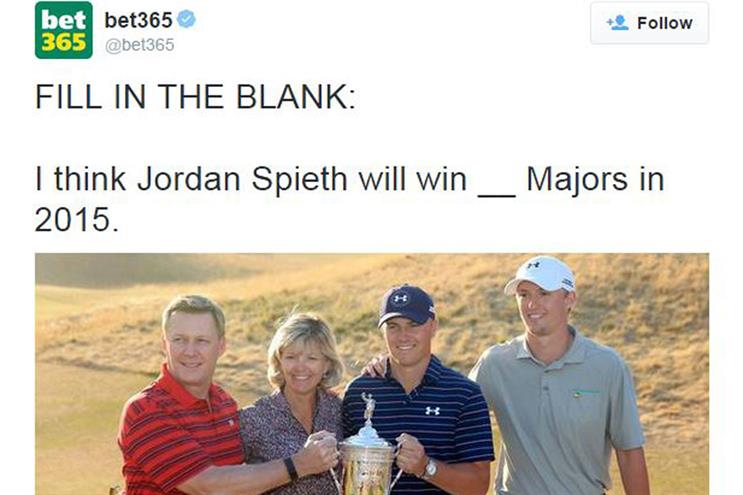 The ASA itself challenged whether the ads were irresponsible and breached the UK advertising code because they featured someone under 25.
Coral tweeted a picture of Spieth holding the US Open trophy, but also gave odds on him winning a third and fourth major championship and included a link to its website.
Coral Interactive (Gibraltar) said it believed the tweet to be editorial content and not an ad, and therefore did not need to be compliant with the Code.
But the ASA rejected this claim and said it was clear that the photograph of Spieth was directly connected with the supply or transfer of goods and therefore was in breach.
The young golfer had already won The Masters and the US Open, and the bookmakers wanted to market the fact that he could win all four major championships (a Grand Slam) this year.
Bet365 did a very similar thing and tweeted a picture of Spieth after he won the US Open in June. It asked Twitter users to fill in a blank and guess how many major golf championships he will win in 2015.
Like Coral, Bet365 said it did not believe the tweet was an ad or a marketing communication, so was not in breach of the Code or socially irresponsible. Bet 365 also said its Twitter followers were required to be age 18 or over.
But, in its ruling published today, the ASA said: "The 'fill in the blank' question encouraged followers to think about placing a bet.
"The Bet365 Twitter home page (which could also be accessed via one click when the tweet was viewed in a user's own feed) also featured a direct link to their own website where bets could be placed."
Totesport, which is owned by Petfre (Gibraltar), also tweeted a photo of Speith on its Twitter account, which said: "We have gone 3/1 (from 15/8) for Jordan Spieth to win the #USOpen! Will NOT last!" – followed by a link to its website."
The ASA said the Twitter ads must appear again.