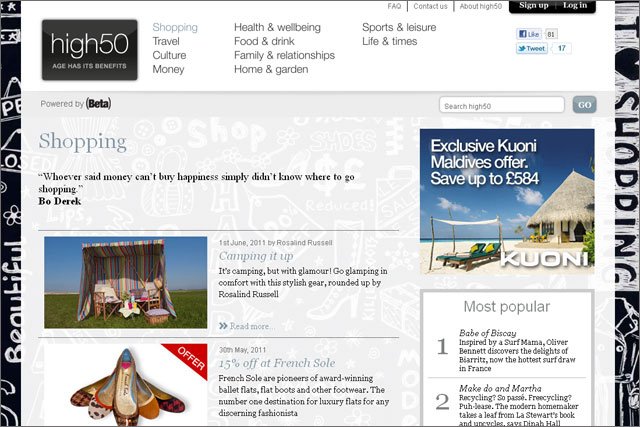 The site, which launches today with commercial partners Kuoni, the high-end travel operator, and Coco de Mer, the boutique erotic brand, will feature content on subjects including shopping, sport, music, money and relationships.
It aims to rival the likes of Saga and will be edited by former Sunday Times Style editor Tim Willis.
According to Beta, the over-50 market is the fastest growing audience using Facebook and Twitter and is largely ignored in advertising, branding and editorial.
Robert Campbell, founding partner of Beta, said: "By the end of this year we hope to have a large number of fabulous and contemporary 50-plus-year-olds signed up. This market has all the money and the time and if recent research is anything to go by they're going to live to be 100."
Mumsnet, the influential website for mothers, has also recently laid-out its plans to target the over-50 internet audience with its latest online community roll out Gransnet.