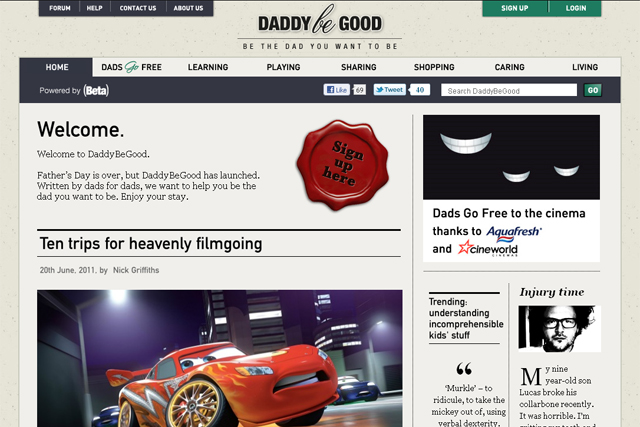 Beta, the agency set up by Garry Lace and Robert Campbell, hopes DaddyBeGood will become the dads' equivalent of the hugely successful mums' online community site Mumsnet.
The site, which has editorial contributors including Loaded co-founder James Brown and Big Issue founder John Bird, is the second online community to be launched by Beta after over-50s portal high50 went live at the start of this month.
Beta said its latest foray into online publishing was born out of research which found that 82% of fathers in full-time employment wanted to play a larger role in bringing up their kids and wanted advice on how best to connect with them.
The site includes advice, tools for parenting, activities and promotions. It has launched with a 12-month promotional campaign called 'Dads go free', giving men who register with the website a free cinema ticket to a Cineworld venue.
DaddyBeGood comprises six sections, including Learning, Playing, Sharing, Shopping, Living and Caring.
The site is being edited by former Brand Republic and Marketing journalist and father of two, Ed Owen, while its editor-in-chief is former Sunday Times Style editor Tim Willis.
Owen said: "Our aim is to not only provide tips and advice – some humorous, some more sensible – on how to be a great dad, but also to provide dads with the ability to share experiences and get that sense of community online."
The7Stars is DaddyBeGood's media partner, while promotions are being handled by Why Not!