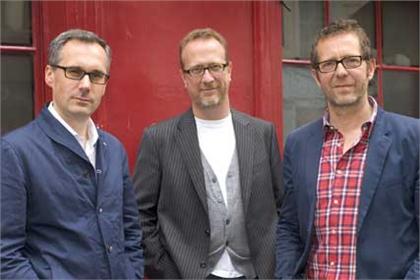 Remi Babinet, a founder of BETC, was recently described to me as "one of advertising's rock stars". And even though his warm and laid-back nature doesn't exactly scream "Rolling Stones band member", his track record - which includes a record-breaking internet phenomenon, countless Cannes Lions, guest-editing The Gunn Report and building France's "most creative agency" - suggests why someone could come to this conclusion.
And now, having dominated France, Babinet, along with his fellow BETC founder Mercedes Erra, is aiming to conquer the world.
The pair are launching a micro-network, with BETC offices planned to roll out in five or six cities around the world, with possible locations including Sao Paulo and San Francisco.
First stop, though, is London.
The office - which is based just off Golden Square in Lower James Street - officially opens this week, with the ex-Modernista! president Matthew Charlton as its chief executive and Neil Dawson, formerly of DDB, as its executive creative director.
"London will be the driver of the network," Babinet explains. "There's no place in Europe as strong as London and, as a city, it has great links with Paris."
Babinet stresses that he will give all the support that Charlton and Dawson need, but expects the agency to start afresh and stand on its own feet - not just rely on the Paris office to send over some clients.
But while it will pitch as a standalone agency, he's also keen for it to maintain the values that BETC Paris has worked hard to put in place during its 17-year existence.
"BETC transforms people's perceptions of brands," Babinet says. "And we do this by getting on and actually doing things; by being creative and caring about our craft. That's the only thing that's important."
It's this philosophy that led Babinet to Dawson as the man to steer BETC London's creative direction. Having presided over senior positions at TBWA\London and Ogilvy & Mather, it's his work at DDB that really stands out: he's won consecutive Cannes Grands Prix as the chief creative officer on the agency's global Philips account.
"Neil is a producer, he's passionate about making things. And with Philips, he took a brand that didn't really have a positioning and transformed people's perceptions of it," Babinet says.
Much of the agency's initial success will hinge on Dawson's relationship with Charlton. Luckily, the pair have worked together, at Bartle Bogle Hegarty, where they ran the Johnnie Walker business.
Charlton stayed at BBH until 2007 (Dawson left in 2003), before moving to TBWA\London to become its managing director. He only stayed in this role for a year, resigning in August 2008 following an agency restructure.
Six months later, he was snapped up by the independent US creative agency Modernista! to oversee its European launch.
"Matthew's struggled after BBH to find a role that's exactly right for him," one former colleague explains. "But he's a strong character who will thrive in the right environment."
Charlton's convinced that BETC London is the right opportunity for him. "There's a freedom and lack of cynicism at BETC that's hard to find in the UK," he explains. "They're not about complexity, they're about simplicity. So while the rest of the UK industry is transfixed by process, we're going to avoid that and just get stuff done."
But BETC isn't trying to wow us all with a new proposition or a formula for a different way of working. "I don't care about new models of agencies, so it's useless to invent a new definition," Babinet says. "We just want to be strong creatively."
That's refreshing to hear, but BETC will come up against a whole host of other agency start-ups, all vying for position as they look to break through into the mainstream. If 2010 was the year when everyone kept their heads down, 2011 is the year of the start-up, with Campaign's news pages seemingly always full of familiar faces launching "new and exciting models". Isn't there a danger that BETC will just get overlooked?
Dawson refutes the suggestion: "Everyone seems to be starting up off the back of a client that needs servicing or because they've invented a new model. It's been a while since we've had an agency start-up like Fallon or Wieden & Kennedy that's launched in the UK on the back of an agency with a creative culture."
Charlton suggests that BETC London is in extended talks with some prospective clients but refuses to elaborate further. The agency has, though, created a provocative film to be seeded online that aims to highlight the problems of foul and abusive language in football. "It's an issue that we care about, and just goes to show that as an agency, we're all about getting on with things and getting stuff done," Dawson explains. Watch the film at Campaignlive.co.uk.
Again, there's that issue surrounding process - and you can see from it that Charlton and Dawson are desperate to get this venture under way. And if any start-up is to be able to hit the ground running and thrive, it could do considerably worse than have the backing of BETC.
MATT WILLIAMS GOES INSIDE BETC PARIS
I'm afraid that I came over awfully British when being shown around BETC's Paris office for the first time. Upon finding the 400-capacity music venue - yes, music venue - in its basement, I asked whether the agency had considered using the space differently: surely, for instance, it would be more cost-effective to bring the 200 or so people working in the overspill office down the road into this space instead? At the very least, most companies would have rented the space out to a start-up by now ...
The suggestion lingered uncomfortably in the air for a moment. My tour guide looked stunned. "Why would we want to do that?" he eventually replied. "Our employees like having a space like this here, it's another way of fostering creativity. Anyway, we must move on, they need to set up for a Louis Vuitton fashion show we're holding in here tonight."
Few agencies seem to embrace creativity as effortlessly as BETC. Founded in 1997 by Remi Babinet, Mercedes Erra and Eric Tong Cuong, it has grown to 600 people, accumulated a client list that includes McDonald's, Evian and Air France, and sold to Havas.
Located unusually in the centre of Paris (the majority of Parisian agencies are housed in the suburbs), the agency somehow manages to delicately balance its large size with a reputation as a creative hotshop.
Among the campaigns to have emerged from its halls in recent years are Canal+ "closet", McDonald's "come as you are" and Evian "roller babies". The Gunn Report ranked BETC as the world's second most-awarded agency in 2010 behind AlmapBBDO.