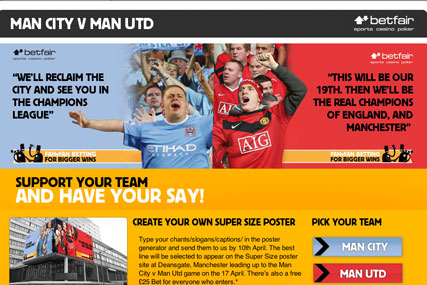 The promotion comes ahead of the derby match on Saturday 17 April, and the billboard will show the rival fans' winning entries. Fans are asked to log on to the site www.cityutd.com and enter their favourite chant or slogan to create their own unique poster.
Fans are able to personalise their own poster and send it to friends and family. The submissions will be hosted on the site, where visitors will be able to rate each poster. The campaign is open to all City and Manchester United fans until 10 April.
Matthew Booth, head of UK marketing at Betfair, said: "City versus United is one of the biggest and most historical derbies, and our campaign aims to sit at the heart of that.
"It's a great opportunity for fans and we're proud to offer them such a unique prize. The ad will stir debate and further increase the anticipation for what should be another fantastic Manchester derby."