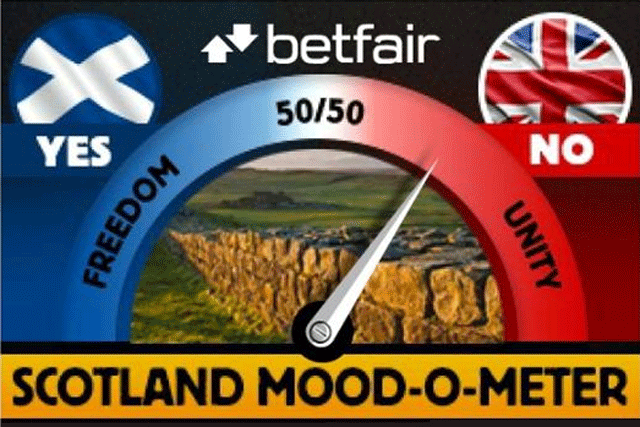 The decision by Betfair not only marks its confidence that the majority of Scottish voters will vote "no", but is also a publicity-savvy piece of marketing.
Betfair said that data gleaned from consumers behaviour from its own betting exchange suggested a 79% likelihood of a "no".
The bookmaker admits that its own figures fly in the face of the majority of polls, which suggest the vote on Thursday will be very close.
Betfair said it is more confident of its own data, pointing out that "political bettors have often favoured [our] Exchange as their choice of betting platform and it has historically provided an accurate prediction of political outcomes".
Naomi Totten, a spokeswoman for Betfair, said: "Paying out early on our Sportsbook is testament to the esteem in which we hold the illustrious track record of our Exchange."
Betfair has been proved right with predictions in the past. In the spring, as World Cup fever was mounting, it set up a stall outside the Houses of Parliament offering odds on England winning the World Cup.
The bookmaker predicted there was a "high probability" that England would not get through the group stages. Its prediction was accurate.
The "no" campaign recently gained the support of various retailers, banks and brands. Earlier this year Marketing reported that Marks & Spencer and B&Q had waded into the debate at the behest of Number 10 and signed a letter that declares a "yes" vote in the referendum would force up costs and increase prices.
Signatories include: Marc Bolland, chief executive of M&S; Sir Ian Cheshire, chief executive of B&Q owner Kingfisher; Andy Clarke, chief executive of Asda; and John Timpson, chairman of cobblers and key-cutting chain, Timpson.