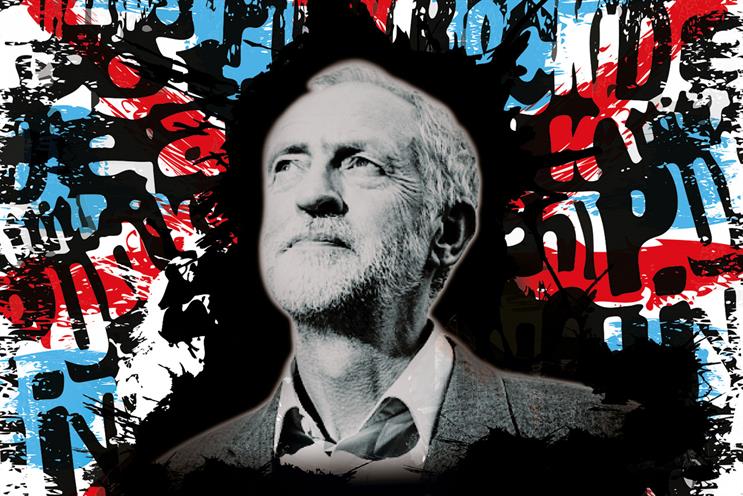 Despite being given an unprecedented democratic mandate as the leader of the Labour Party, Jeremy Corbyn seems like public enemy number one if the press, my Facebook feed and comments from some members of the advertising industry are anything to go by. However, I want to try to open the minds of the advertising community to the ideas for which he has been elected.
Outwardly, advertising in the UK would appear to have a natural alignment to the right of politics – we are an industry that gains from a stable and growing economy, something that the right-wing has managed to associate itself with; our ads for the Tories have generally been more memorable and effective; the Conservative Party grandee Michael Heseltine is the publisher of Campaign; hell, I even have a picture of myself smiling a little uncomfortably while receiving an award from William Hague circa 2004 hidden in a bookshelf at home.
However, not subscribing to a right-wing view in my politics can lead Tory friends to decry those of us of a left-wing persuasion as a morally fraudulent "Champagne socialists", as though earning an above-average income, working in advertising and believing in the values of socialism are completely incompatible. Maybe they are right, and maybe I am a deeply wrong-headed individual, but maybe we shouldn't be so eager to discount what those on the left of our politics have to offer.
In our offices at J Walter Thompson London, we are given a constant reminder of the creative value of people from a working-class background when we look on the artwork of David Hockney that brightens the walls of our meeting rooms and corridors.
What advertising needs to reconsider is his authentic dedication to the cause of creativity. The lifeblood of the creative services in the UK is investment in the arts and making an arts education accessible to people from all walks of life. One of the greatest strengths of the UK advertising industry in the 70s, 80s and 90s was the many advertising titans drawn from very ordinary backgrounds. Kids from all walks of life with creative talent were able to get access to art colleges and arts courses at universities that gave them the platform to succeed in professions such as ours.
Corbyn is also one of the few politicians to have brought this issue up and presented a well-thought-through plan for investing in creativity and the arts. The dedication that he has shown in his election campaign to harnessing the creative talents of all sectors of our society is something that I hope can open your mind to him as it has done for me.
If our arts courses are going to be drawing from an ever-smaller and less diverse pool of talent, it could have negative consequences for the health of our industry. Diversity is the mother of creativity and we need the creative talents of people from all backgrounds graduating into our agencies if we are to keep British advertising at the leading edge. Or to put it another way: "None of us is as good as all of us."
It's also interesting to considering Corbyn's campaign through the lens of brand and communications theory. If you can put aside left/right leanings for a moment, it is worth considering that Corbyn has acted like a true "challenger brand" and has arguably aired more new ideas in the past few months than any politician in living memory. For example, in his decision to open up Prime Minister's Questions to the membership of the Labour Party and the public to supply their questions, he is subscribing to many of the ideals of a participatory, crowd-sourced, modern brand.
His authentic delivery has been the opposite of the airbrushed and over-focus-grouped sound bite that has created such contempt for Westminster politics. In his promise to deliver a spin-free politics, he is acting like a classic "disruptive" brand. His policy stances are the acts of a "conviction" politician who leads, not a "confection" politician who follows. In showing loyalty to his political principals more than his party whips, he has been more of a true black sheep than any of us who have ever mingled around Soho.
You could also add that his digital campaign team has given a masterclass of social media planning, helping to fan the flames of an authentic social movement behind him. So while he may not be a classic charisma politician in the style of Barack Obama, his campaign has illustrated the effectiveness of many of the ideas and practices that we regularly lecture our clients on, both in our meeting rooms and our media outlets.
A lot of people may not like Corbyn's refusal to sing the national anthem and his Oxfam-style may not prove the inspiration for an outfit for a trip to Soho House. But, when he says "a successful economy and healthy, creative, open and vibrant democratic society depends on a flourishing creative sector", I hope that it might open your eyes to the fact that not everything he proposes is entirely fitting with the description of "loony left".
Pete Heskett is a global planning director at J Walter Thompson