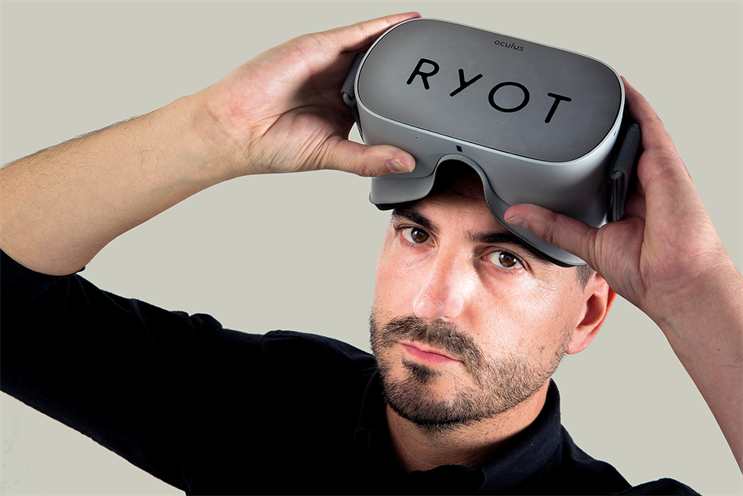 Star Trek, I, Robot and Minority Report all have something in common. Other than being seminal films, they all captured our imaginations by providing a glimpse of what could be achieved in the future.
Steve Jobs and other visionaries made what once seemed impossible, possible. But robots – or, indeed, psychic technology – are way off from being mainstream. In some cases these concepts are deflecting attention from the seismic change onto consumer experiences that are already happening.
Extended reality (XR), once a concept in films like Back to the Future, is now commonplace, but XR as we know it today is just getting started.
Whether talking about augmented reality (AR), virtual reality (VR) or mixed reality (MR), this real and virtual evolving technology is unlocking immersive storytelling for consumers in a faster and more personalised way than ever before.
It has been 25 years since Sly and Sandra Bullock dazzled us with a vision of 2032 in Demolition Man (Stallone robbed of an Oscar AGAIN), but it does inspire us to consider the next 25 years and how we'll experience brands, products and stories in new and unfamiliar ways; ways we've not even started to think about yet. Here's a taster from us of what might happen.
Adapting to changing consumer demands
Living in a social world, consumers already demand an interactive and personalised experience. In the future, it won't be a value-add for a customer to interact with a brand, but a necessity.
In the past decade we've seen the digital experience evolve significantly. Consumer attention has shifted to OTT [videostreaming platforms], smartphones and tablets. In the next five years, let alone in the next 25, consumers will move to different devices; wearables and smart glasses will become commonplace and VR and AR will be part and parcel of daily life.
MR has been successful in using our current, real-time surroundings to enhance our entertainment experience, transporting us into familiar places across time and space with the swipe of a finger. It makes the impossible possible, allowing us to actually experience things for the first time – the ultimate emotional connection.
Virtual travel could become common, with 360° VR offering wannabe travellers a way to experience new destinations from the comfort of their own home – avoiding airport security, flight delays, bad food and selfie sticks. Just imagine the possibilities of holographic projection for business meetings around the world – where the Star Wars universe becomes reality and we have our colleagues' projections sitting in a room next to us as if they were actually there. With an increasing demand for personalised experiences, it'll be fascinating to see how brands tailor virtual experiences to consumers, predicting their wants and needs, and transporting them to other worlds or places – real or imagined.
The role of technology trends
Despite its endless possibilities, hardware remains one of our biggest limitations. Goggles, headsets and gloves are clunky. Battery life and power sources remain an issue. But a new dawn is coming as the use of solar energy and hydrogen gain momentum. Some believe the next major tech revolution will be the discovery of a new renewable energy, allowing complete freedom of design, away from the current iterations of wearable tech.
New technology will enable brands to build and execute AR experiences with increased efficiency. With 4.5 billion active mobile users already, mobile AR is a front-runner for future adoption. There we'll see businesses refine and perfect their interactions with people – from entertainment to retail and information-offering – and spur on future developments beyond the mobile screen.
Let's hope that VR doesn't hold a future similar to that depicted in 1992 techno-thriller The Lawnmower Man. As technological advances become more affordable, we have already started to see VR moving away from gaming alone, offering consumers the chance to give their physical life up to the virtual world – Matrix-style.
Success in increasing investment
The financial hype surrounding AR and VR is enormous, with global venture capital investment expanding from $86m in 2012 to $2.8bn in 2017. With an expected $200bn in revenue by 2021, we can hope to see investment continue to grow in the next 50 years.
XR is becoming an asset for businesses and brands, with more companies investing in new technology for the future. Verizon has invested significant resources into RYOT Studio to develop AR, MR and VR applications, hopefully unlocking significant economic gains.
Brands must decide how to channel XR for the future of their business, whether it's building the hardware, providing the experience or using new tech to reach consumers. Demolition Man did get another thing right – the future will be focused on automation. It's about understanding how to work with new tech to reach people effectively, tapping into emotions, offering new experiences and connecting with people.
But all of this new technology won't succeed on its own; it needs to pair seamlessly with great creativity. All the tech in the world won't sustain consumer interest or make brands successful unless creativity remains the driving force.
This strong creative streak will ensure the connection between brands, tech and consumers; now and 50 years from now.
Future Vision
• The next 50 years will see us experiencing brands and products in new, unfamiliar ways. Ways we've not even started to think about yet.
• By 2050, consumers will move to different devices – wearables and smart glasses will become common and VR and AR will be part and parcel of daily life.
• VR holographic projection for business meetings bring colleagues from across the world to sit in a room next to us as if they were actually there.
• With an expected $200bn in revenue by 2021, we can expect to see investment in XR continue to grow in the next 50 years.
• With already 4.5 billion active mobile users, mobile AR is a front-runner for future adoption.