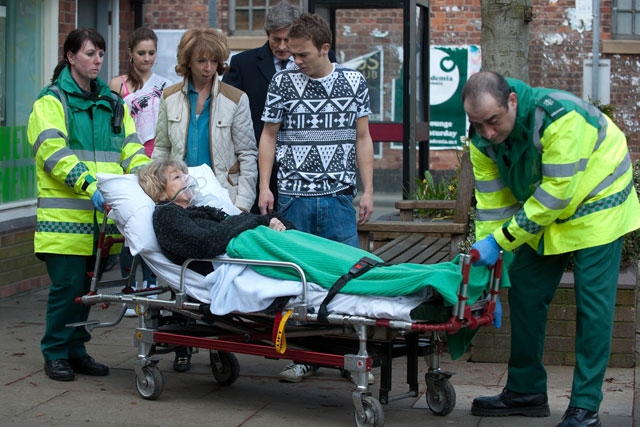 The latest work by media agency PHD, branded content agency Drum and ad agency Grey involves the charity taking a more serious approach after the success of its light-hearted viral featuring Vinnie Jones in January.
It is no stranger to playing on the drama of heart attacks to raise its profile, notably running a two-minute TV ad featuring actor Steven Berkoff simulating a heart attack during ITV's 'Midsomer Murders' in 2008.
This time, it has pursued greater integration with the programming itself, although ITV stressed the charity had no influence over the storyline and there is no BHF product placement in Monday's double episode.
The partnership extends beyond the three ads that will be shown in the breaks, to online, social media activity, and a licensing deal allowing the charity to feature images of Audrey Roberts in-store.
The three 10-second ads will run in the end break of episode one, the centre break of episode two and the end break of episode three. Each will carry a slightly different message intended to raise awareness of heart disease in women.
The ads were written by Grey London and produced by Drum.
Neil Bonley, account sales manager at ITV, said: "ITV's partnership with British Heart Foundation demonstrates how we can innovate around the traditional model of brand building on TV, with a focus on maximising impact through new ways of integration with our programme brands."

Nick Radmore, head of marketing for the British Heart Foundation, said working with ITV provides the charity with an innovative opportunity to reach millions of viewers across the UK with a life saving message.

"Heart disease is the single biggest killer of women in the UK but many don't realise this ... We're hoping that people will be moved by Audrey's story and give our heart nurses a call to chat about their own real-life concerns," he said.
Content also includes a short film featured on the BHF website, a voiceover on the BHF Heart Helpline, and an article authored by Sue Nicholls on the Coronation Street website.
Simon Wells, executive producer at Drum, said: "With viewers already engaged in the programme, the campaign aims to leverage the narrative to have an even greater impact."
'Coronation Street' attracts an average of 10.1 million viewers for each of its five episodes per week.
Follow Daniel Farey-Jones on Twitter @danfareyjones