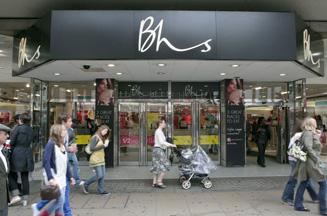 The department store chain is already undergoing a significant transformation to its operations. In the summer, Sir Philip Green merged Bhs into his Arcadia retail group, with the aim of integrating Arcadia brands such as Dorothy Perkins and Burton as part of a much-needed revamp of the brand.
Olivia Johnson, planning partner at creative agency Hooper Galton, believes that adding food and beauty products to its offering would help Bhs.
'It's hard to imagine it doing own-label food, but a tie-in or tie-up with an established food brand could work,' she says. 'The pressure on women's time means that the chance to quickly and easily pick up an item of clothing, say, and a ready meal, will always have appeal. Just as Waitrose is doing a deal with Boots, maybe one of the smaller grocery players may want to do a deal with Bhs.'
The introduction of food and beauty lines would reflect efforts to pitch the chain against the likes of Marks & Spencer, which Green attempted to acquire in 2004.
'If Bhs does food, in particular, it could pose a threat to M&S, although the more upmarket, "treat" nature of M&S food feels a bit out of Bhs' reach for the time being,' adds Johnson.
The introduction of Arcadia fashion labels in Bhs is likely to bring a new kind of customer into the department stores.
'Beauty is a competitive game, but if the Arcadia brands come into Bhs and bring a fashion shopper with them, or at least a shopper in fashion mode, then beauty products seem like a logical extension,' says Johnson.
Tony Treacy, managing director of retail agency Ideas-to-Market, says Bhs needs to take more drastic action than simply adding new categories. 'Bhs will almost need to rebrand itself altogether, potentially even [under] a new name, to have any chance of retaining existing Arcadia brand-loyal customers,' he says.
Bhs needs to offer customers more reasons to shop, but the Arcadia brands do not necessarily offer something sufficiently 'new', warns Treacy. 'Bhs stands for "making modern living easy", a broad appeal to a wide audience for whom the brand is a faithful old-timer. But who do [Arcadia womenswear chains] Evans or Wallis appeal to, if not the same audience?' he asks.
The introduction of other brands, particularly in food and beauty categories, could bring a 'glamour' that would help Bhs dust its own image off. However, the key will be whether it can redefine the brands successfully and reduce product overlap.
Bhs is trying to become a more clearly defined department-store chain, and although the revamp has started, it looks set to be a long, drawn-out process. However, it comes as no surprise that Green's failure to take over M&S should lead him to try to create an almost replica retail offering.