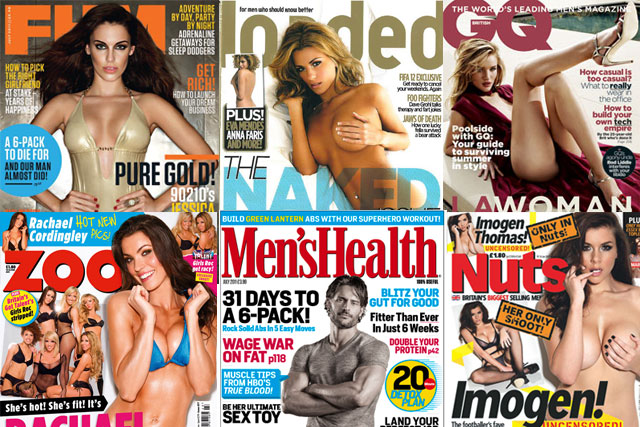 FHM dropped almost a quarter of its readers over the 12-month period, as did Nuts, while more than a third of Zoo's readers departed as the traditional lads' mags diet of scantily clad young women lost further ground to titles focused on health and wellbeing.
The readership of Bauer Consumer's FHM in the year to March fell 24% to 1,072,000, a drop of 331,000, according to the NRS figures.
Zoo, a Bauer stablemate of FHM, lost 220,000 readers – 35% year on year – to average 411,000 in the 12 months to March.
Rival weekly lad's title Nuts, published by IPC Media, lost more than 185,000 readers in the period, a drop of 22 per cent, to an average readership of 647,000.
Readership of Loaded, which was sold by IPC to Vitality Publishing last year, dropped 150,000 to 413,000 – a loss of 27% of its readership.
The desperate falls in lads' mags NRS results coincide with yesterday's Bailey Review , which published a series of recommendations that threaten to have a negative impact on the sector.
The review on the commercialisation and sexualisation of childhood called for the covering up of sexual images on the front pages of magazines, so they are not within easy sight of children.
Stuff magazine, published by the consumer division of Media Week owner Haymarket, recorded a decline of 23% year on year, a drop of 75,000 readers, to an average readership of 257,000 in the year to March.
In contrast to lad's mag losses, Natmag Rodale's market-leading magazine Men's Health increased its readership by 13% year on year, to an average of 1,216,000 in the 12-month period. This constituted a 17% increase in readership.
The popularity of health-related titles in the men's sector was reinforced by an increase in readership of 17% for Dennis's Men's Fitness magazine. Its readership increased 102,000 to an average of 698,000 in the 12 months to March.
Condé Nast's GQ magazine had an average readership for each issue of 400,000 over the 12 months, a drop of 4% or 16,000 readers.
The National Magazine Company's Esquire magazine had an average readership of 147,000 – which was level year on year.
Unlike figures from the Audit Bureau of Circulations, which reveal sales and distribution performance, the NRS surveys around 36,000 people to produce an estimated readership.