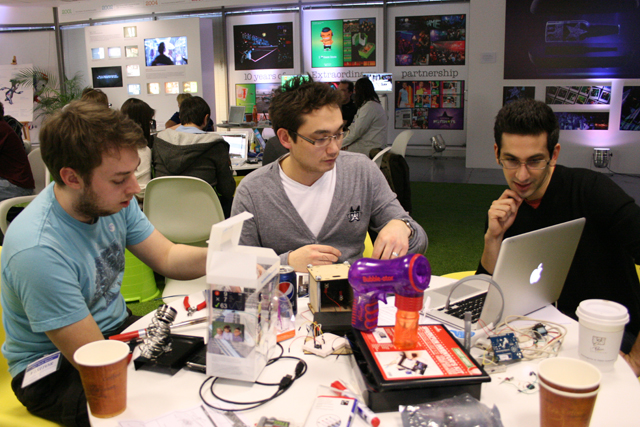 A diet of pizza, crisps, fizzy drinks, beer and caffeine. This doesn't sound like the usual brain food, but when you're powering through the night as part of a 24-hour 'hackathon', these are often the nutrients deemed necessary to yield a spark of inspiration.
US venture capitalist Jay Jamison of BlueRunVentures: 'Brands are way more open-minded about solving problems the new-fashioned way'
Kraft head of digital Sonia Carter: 'We're interested in what's possible when we make our brands available to developers and start-ups'
Originating in the US about a decade ago, hackathons, or 'hacks', have gained credibility as a way of creating leading-edge tech products and services, particularly apps. The aim for the host company is to develop ideas through to prototype-demo stage at a fraction of the usual cost and time, with hacks usually lasting 24 to 48 hours. In addition to the thrill of taking part, a financial enticement of up to $10,000 for the winning team is typically on offer.
In the UK, hacks are gaining traction, particularly with the burgeoning Tech City in East London at the centre of the trend. Google's tech start-up hub, Campus, for example, now hosts a hack every month.
Last year, Facebook (its 'like' and 'chat' functions were conceived at such gatherings) urged UK brands to adopt a 'hacking culture'. The company has been at the forefront of hosting hacks, with a UK event planned this month to mark the opening of its London engineering office.
While the growth of hackathons, led by tech companies, has been well documented, several more 'traditional' brands have embraced the format, including Honda, Tesco and Kraft.
The brand challenge
Tesco hosted its first hackathon in March. About 40 people took part in the 24-hour event across 10 teams, including IT specialists from Tesco's dotcom business, a group from its data analytics arm Dunnhumby, and one from Microsoft (see 'Diary of a Tesco hackathon', page 13).
'It allowed us to get all the ideas from the developers' minds on the table very quickly,' says Tesco digital media manager Andrew Williams, who helped stage the event. 'There are so many people across the business, especially in dotcom, who have so many things they want to try out, but are restricted by the day job and have little spare time.'
Conducting it over 24 hours might seem excessively intensive, but Williams argues that such a timeframe fosters a uniquely productive environment. 'Working through the night adds to the atmosphere and fun and gives solid progression to the competition element. It means the teams must use what is there at the time. Hacking is all about rough coding, not creating a product ready for launch,' he adds.
The winning product idea, which has been commercially launched, was an app that scans a product label or packaging, and suggests complementary groceries, which can then be sent straight to a user's online basket.
However, hacks are not just about finding one great innovation, according to Williams. 'You don't need to identify a perfect idea at the end of it. We had several ideas, many of which have been tested. We found it a very successful experience; we will host another one within the next year.'
Open or direct briefs
Honda hosted a 36-hour 'Power of minds' hack last year in collaboration with The Guardian. Rather than setting a specific challenge, its brief was open to interpretation: 'If we never venture into the unknown, how do we get anywhere new.'
As well as developers, the participants included 'cultural engineers', a group of people picked by Honda, 'united by their desire to make a change and enhance the world, from beautiful design work to environmental awareness'. The 'best in show' winner - a live brainstorming web app called 'Orchestra' - received £2000 from Honda toward further development.
In contrast to Honda's open brief, Kraft favours a more direct challenge. It held its first UK hack in May (see 'Brand view', page 12) and was also part of a bigger event in the US. The latter was held in conjunction with DIY chain Home Depot under the 'Big brand hackathon' moniker in San Francisco in June. With a cash-prize fund of $25,000 and a further $20,000 worth of prizes on offer, about 150 developers flocked to the event.
The hackers were briefed on real business problems, such as 'How can Kraft drive brand engagement with Ritz crackers?' and 'How does Toblerone become more of an everyday product in the minds of users?'
After 28 hours, more than 40 app concepts were presented, such as a Ritz 'stacking challenge' app, and 'Toblerone triangles', a social camera app, which encourages users to capture and share triangle-shaped images.
Hacks vs agencies
Some US observers contend that such a prolific and rapid output will win more brand marketers over to the format's potential.
'If a brand can host a hackathon for a few tens of thousands of dollars and get projects in a weekend that rival what they get for hundreds of thousands of dollars and months of time, then many more brands will do much more of that,' says Jay Jamison, partner at US early-stage venture capital firm BlueRun Ventures, and a start-up mentor (see box below).
He insists that the BlueRun co-sponsored 'Big brand hackathon', of which he was a judge, clearly demonstrated how brands can benefit from such events. 'The brands, I think, left the hackathon wondering why they are spending all that money with agencies, waiting months for stuff to roll out in an orderly fashion to users. The hackathon model has turned this on its head.'
The no-app hack
While hackathons are typically defined as tech events that produce an app, some brands are taking hold of the format as a method for improving other areas of their business.
Unilever held what it termed a hackathon at Kew Gardens in May. About 60 people, including research and digital staff, 'brand builders' and some guests from external agencies took part. According to Marc Mathieu, senior vice-president of marketing at Unilever, the aim of the two-and-a-half-day event was to 'crack the code' of how the company should be 'crafting brand for life'.
Rather than create prototype products, the hackathon addressed how Unilever could further embed the principles of its marketing approach. Teams were set broad challenges such as 'how to unlock the magic of marketing' and 'how to elevate our brands'.
'A hack is all about cracking a problem there and then, and sharing ideas,' says Mathieu. 'It can kick-start a project and is much like a start-up environment, where you think about business accelerators and incubators.'
Mathieu claims the mindset encouraged by a hack is what sets it apart from traditional practice. He insists that a hackathon is more than just a sexy name for brainstorming.
'Typically, when a company wants to progress anything, a meeting is called, which, at most, might last up to three hours - and that's if everyone can make it. This was nothing like participating in just another meeting or brainstorming; it is an incredibly energising way of doing things.'
EMI has also used hackathons as an internal business tool. It hosted a 24-hour 'data hack' in collaboration with 'data geek' network Data Science London in July. It was designed to find ways of mining data from 1m interviews conducted in 25 countries, in an effort to gauge how and why people buy music and understand how artists and fans connect.
'There are so many brilliantly smart people in the world, who have different approaches to looking at this data in ways we haven't considered,' says David Boyle, senior vice-president of consumer insight, EMI. Participants could take part remotely, as well as on-site in London. The hack involved 138 teams - including groups from overseas - which submitted 1339 entries over the 24 hours.
For Boyle, hackathons are not about one-off events. He argues that, by hosting hacks and putting its data 'out there', EMI will be viewed as a credible part of the data community.
'It is not about extracting a specific result that we put back into our business tomorrow - or a quick commercial benefit from other people's hard work,' he explains. 'It's about building genuine long-term relationships and being part of the music data community. As a business, we are going to learn a lot through hacks. If you are part of a trusted group, those people will treat you differently than if you are trying to get a quick return.'
Exploitation vs partnership
EMI's philosophy highlights the risk of confusion when it comes to different types of hacks. There is a distinction to be made between 'pure' hackathons, hosted by tech businesses, and those held by traditional brands, which might use them more as marketing-idea sessions, explains Eze Vidra, head of Campus at Google.
For the latter, he says brands must be careful to use hacks in the right way and for the right reasons, or run the risk of generating negative publicity.
'Hackathons can bite you in the ass if you don't do them well. Make sure you are engaging developers and they find the cause compelling. You do not want them to feel like you are exploiting them to do R&D on the cheap,' warns Vidra.
Iris Worldwide is looking into running a hackathon for its client Philips, with the aim of helping to develop an 'ecosystem' of apps around a forthcoming product launch.
David Caygill, creative technology director at Iris, says that a major consideration is deciding with whom the intellectual property and equity rights lie. The relationship between hack teams and brands must be based on trust, he advises.
'Participants are there to get recognition and are motivated by kudos, so it is important to make it feel like the ideas are from people. As soon as it starts to feel exploitative it could backfire quickly,' adds Caygill.
Hosting a 'pure' tech hackathon might not be on every brand's agenda, but the format has appealed to some - and proved successful - already.
Whether it is about opening up a set of business problems to internal departments, or inviting independent experts to find solutions, the hackathon is a quick and effective method of bringing fresh thinking into a business.
As Boyle puts it: 'It would be crazy to think we at EMI know everything. All we want is to be taken in directions we have never thought about.'
VIEW FROM THE US
Jay Jamison, partner, BlueRun Ventures, an early-stage venture capital firm with offices in Menlo Park, Beijing, and Seoul
Brands are way more open-minded about solving problems the new-fashioned way - just hacking shit together and seeing what happens.
The 'Big brand hackathon' in San Francisco (involving Kraft and Home Depot) was a big step forward. First, it's cool to see brands getting influenced by the Silicon Valley ethos. Rather than depend on a top-down planning process at corporate, it was cool to see these companies open themselves up to a fresh approach.
Second, I think we will see more brands pushing this type of hacker approach into using technology in their business. As new technology waves create more and more disruption to traditional media, brands will get increasingly hungry to take advantage of this sooner.
Third, if you agree with the above trend, then agencies might start facing competition from more 'hacked-together' projects, and they will need to respond.
I'm always amazed at what a little beer, pizza or tacos, some swag, and a few thousand dollars in prizes can do in terms of fuelling hackers getting together and getting stuff built. It's not the money, of course, that gets hackers together for hackathons, it's more about having the opportunity to build stuff quickly.
At this event, after just two days, there were more than 40 demos presented. To my mind, about a dozen of those projects were basically ready to get picked up by the brands, polished a bit and released to users.
Facebook in a sense pioneered the 'don't be afraid to break stuff' hackathon ethos. It's apparent to me, from this weekend, that this ethos is going to start bleeding beyond Silicon Valley high-fliers - and big brands are going to evolve.
BRAND VIEW
Sonia Carter, head of digital, Kraft Foods UK
Kraft is committed to identifying ways to connect with consumers. Hackathons are an interesting method of bringing these to the surface, and London is an incredibly fertile place for creative technology, so it made sense for us to kick off our innovation programme here.
The event in May was incredibly successful. We have started building great relationships with developers and met some start-ups that we hope to work with long-term. We gave away six prizes and the winning idea, the 'Feeel.It' app, has been launched for iPhone and Android and was used on a daily basis as part of our London 2012 campaign.
The app was designed with the Olympics in mind, and allows users to a capture a short audio clip when they take a photo on their device, to help them capture the atmosphere of an event. The picture can be uploaded to a dedicated site.
The 110 people that participated were engaged right from the morning intros. Cadbury is a well-loved brand and I think the developers enjoyed the chance to test their skills on such a rich creative platform.
We were careful to ensure they were looked after during the 30-hour hack; that's why we used the fantastic Google Campus. We were also clear that developers retained all their IP.
We're interested in what's possible when we make our brands available to developers and start-ups who often don't have access to a big company such as Kraft.