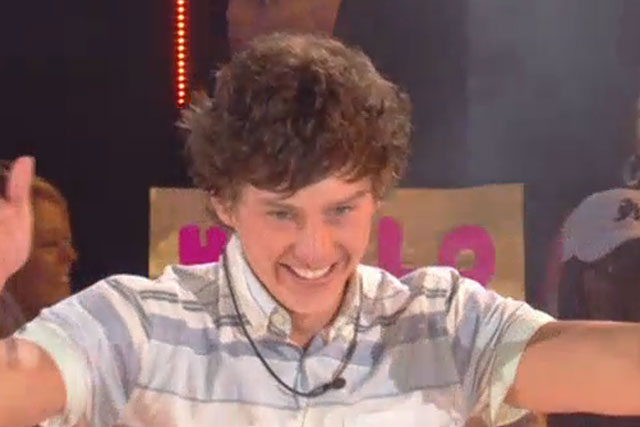 According to unofficial overnight figures, 'Big Brother' attracted an average of 1.75 million viewers last night across its two live shows, up from the 1.5 million who tuned in to watch last years final.
However, the figures are still down from 2011's finale figures, which achieved an overnight audience of 2.05 million, while 3.4 million viewers watched this years' celebrity version of the show in January.
According to figures from Channel 5, the peak audience including Channel 5 +1 was 2.8 million as the first episode came to a close at 9.59pm, compared to a peak of 1.9 million at 10pm last year.
The first half of this year's two-part 'Big Brother' final attracted 1.97 million viewers between 9pm and 10pm last night on Channel 5 and Channel 5 HD, a nine per cent audience share.
The second half, which saw Welshman Sam Evans crowned this year's winner, received 1.53 million viewers between 11pm and 11.30 pm, a 13.9 per cent share.
An additional 107,500 viewers watched first episode of the final and an additional 65,600 viewers watched the second part of the final an hour later on Channel 5 +1.
When the contribution of Channel 5+1 is included, the two live shows had an average of 1.9 million viewers, with 2.1 million tuning in for the first half and 1.6 for the second.
The most-watched channel during the 9pm slot was BBC One, with its crime comedy-drama 'Death in Paradise', which attracted 3.08 million viewers and a 14.1 per cent share.
'Big Brother' was the second most-watched programme during this time slot, followed by Channel 4's 'Benefits Britain 1949' with 1.56 million viewers.
Both ITV's 'The People's Medal' and BBC Two's 'Horizon- Defeating the Hackers' received close to 1.5 million viewers.
This year's 'Big Brother' introduced a click-to-buy product placements initiative from Very.co.uk, which allowed viewers to buy items seen on the show