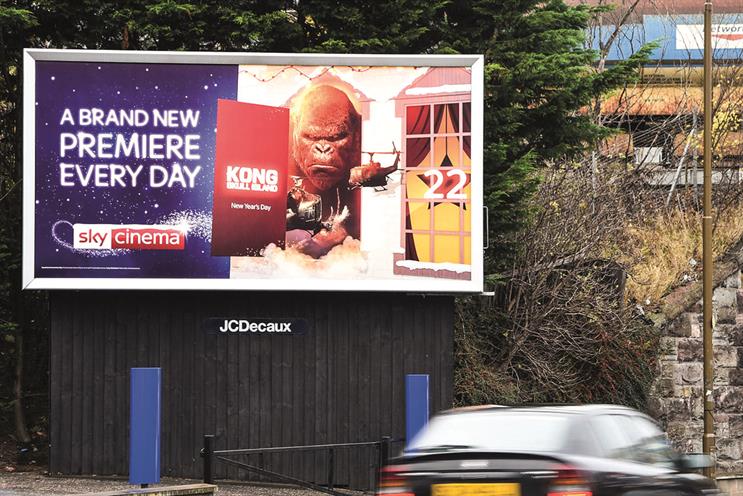 Jennie Roper, head of insight, Kinetic

| | | |
| --- | --- | --- |
| | | Index* |
| 1 | KFC Small- and large-format roadside | 158 |
| 2 | Sky Cinema Large-format roadside | 147 |
| 3 | Now TV Large-format roadside | 146 |
| 4 | McDonald's 'Chicken selects' Small and large-format roadside | 141 |
| 5 | Cancer Research Small and large-format roadside | 137 |
| 6 | Captain Morgan Small-format roadside | 134 |
| 7 | 'Greatest Showman' Large-format roadside and bus | 131 |
| 8 | Halifax Large-format roadside | 127 |
| 9 | Jumanji Large-format roadside | 126 |
| 10 | DFS Large-format roadside | 117 |
It's great to see Halifax appear in the Top 10 of Primesight's Big Impression for this month. This is a great long-term multimedia campaign from Halifax and it's fantastic to see it receive such great OOH recall.
One reason for the high recall is the use of celebrity. In terms of psychology, celebrity endorsement is a form of authority bias. When done well, this can work effectively as a decision-making shortcut. Dutch behavioural scientist Mirre Stallen did an experiment to show why celebrity sells. By pairing shoes visually with either a famous or non-famous woman, she demonstrated how positive feelings toward celebrities converted into positive feelings about the associated shoes. Memory recall was also better than those paired with non-celebrities.
Another thing to note is the clever use of contrasting colours. Neuroscience demonstrates that bright, contrasting colours drive brain activity, meaning consumers are more likely to be drawn toward the creative. Leveraging consumer psychology and neuroscience is proven to make your media spend work harder, and this campaign from Halifax shows just that.
Above: Halifax used roadside billboards as part of its multichannel activity featuring Top Cat
Above: KFC's chart-topping campaign featured its £3.99 MegaBox
This chart lists the out-of-home campaigns which had the greatest recall in the period 18 December 2017-14 January 2018. All data supplied by Opinium opinium.co.uk