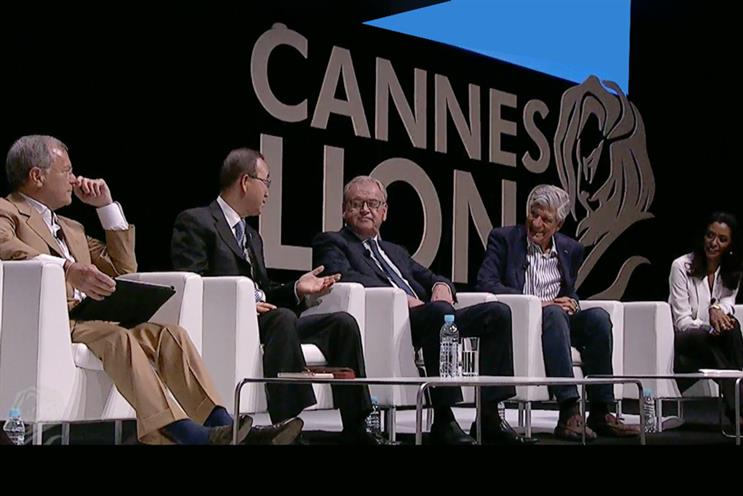 Speaking at a closing debate at Cannes Lions, Havas chief Yannick Bolloré, WPP's Sir Martin Sorrell, Omnicom's John Wren, Dentsu's Tadashi Ishii, Publicis' Maurice Lévy and IPG's Michael Roth collectively pledged to support the UN's 17 sustainability development goals through a new initiative called "Common Ground".
Though often at loggerheads publicly, the six talked up the importance of putting their differences aside, with some expressing dismay at the referendum outcome.
Ban Ki-moon in his opening speech said: "As for the UK, yesterday and today, I have never been more convinced that when we work together, we are stronger. That's the key to a better world and is in our hands."
WPP's Sorrell, a long-time supporter of immigration as a force for economic good, specifically called out this aspect of the referendum.
He said: "Each of [the big six] has espoused a cause but there is one other that has probably had a great impact on the events of yesterday evening and this morning – questions of immigration and the issue of refugees.
"It's a paradox sitting here talking about common gorund when we've just gone through 24 hours when people seem to be talking more about isolation and separation which, in its way, is a tragedy."
He added that the immigration issue would crop up beyond the referendum to recur during the US presidential elections in November. His comments come as presumptive Republican nominee Donald Trump arrived in Scotland and described the referendum outcome as "a great thing".
In an interview with Campaign, Lévy said he was "shocked" at the result.
While Roth did not comment publicly on the referendum, he sent a memo to IPG staff after the results, stating: "Yesterday's decision will undoubtedly lead to market volatility in the short term, both in Europe, as well as globally.
"It's important to remember that what does not change is the fact that the UK is a vital cog in the world's economy, and that together with our clients, we'll find footing in a post-Brexit world."
The Common Ground initiative wlll kick off with a joint ad campaign. The six companies will also fund Young Lions ideas around the sustainability development goals.
Each group has pledged its support for a particular goal, with WPP pushing gender diversity, Publicis focusing on food, Havas on climate change, IPG on access to clean water, Omnicom on education and Dentsu on health.