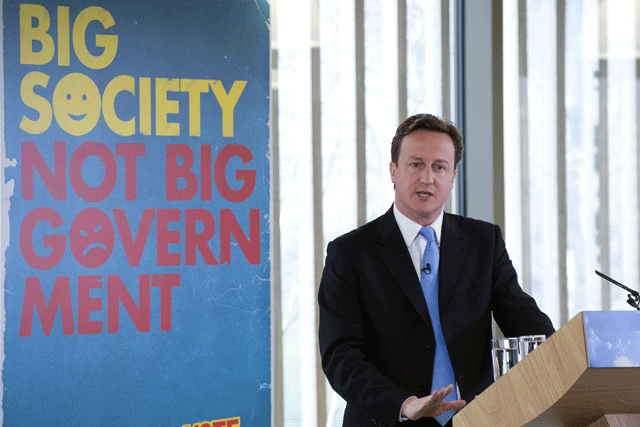 In a poll of 1,500 people across the UK, conducted by OnePoll this week, the majority of respondents believe the Big Society is either a front for public spending cuts (33%) or little more than PR spin (22%), although 16% said it is a "great way to re-connect with their community" (see results below).
A quarter of young adults admit they do not know what it is, while another quarter incorrectly believe Big Society is about promoting UK businesses.
Unsurprisingly, the majority of the older age groups can identify the correct description, but, nonetheless, 23% of 45- to 54-year-olds can not.
Most people, in responses by regions rather than age, understand the concept, with Northern Ireland scoring the highest and 81% identifying the correct description.
By comparison, 60% of Scottish respondents choose correctly, but 17% of Scots believe Big Society is about UK business and 21% "don't know".
Putting Big Society into practice, respondents from East Anglia, Yorkshire and the East Midlands are most likely to say they haven't done any volunteer work. But in every region, the majority of people said the Big Society would either "probably not" or "definitely not" encourage them to volunteer more.
By age group, however, a significant 39% of 18- to 24-year-olds said they will "probably" or "possibly" do more volunteering as a result of the initiative.
For expert analysis of the Big Society, read Brand Health Check in next week's Marketing.
The Conservative Party has been talking about the Big Society. Which of the following do you think the Big Society means?
| | 18-24 | 25-34 | 35-44 | 45-54 | 55+ |
| --- | --- | --- | --- | --- | --- |
| Working to promote UK businesses to ensure that the UK remains at the forefront of global enterprise | 23.32 | 11.45 | 15.24 | 3.96 | 6.29 |
| Empowering the public to take an active part in communities, sometimes taking over activities previously funded by government | 48.88 | 60.53 | 63.33 | 72.28 | 78.41 |
| Fighting to protect the spread of urban areas into the countryside, by promoting the importance of green spaces to society | 4.48 | 2.66 | 2.38 | 0.99 | 1.47 |
| I don't know | 23.32 | 25.36 | 19.05 | 22.77 | 13.84 |
Which of the following statements do you think best sums up the Big Society: