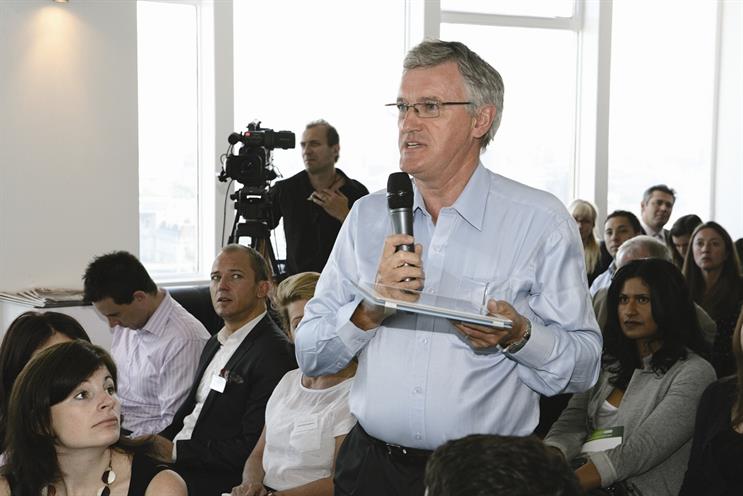 Steve Jobs and Apple never knowingly under-hyped the brand's new product launches, but the arrival of the iPad has created a new market (the launch of some 80 rival tablet devices were announced earlier this year in the US) and offered new op­portunities for publishers, advertisers, agencies and other players in the media industry. UBS estimates that, this year, 28 million tablets will be sold worldwide – in three years, more than 200 million tablets could be in consumers' hands.
Examining the size of those opportunities and the direction of the market for media businesses and advertisers was the order of the day as an expert panel of six agency, advertiser and media owner representatives met at the Big Tablet Debate, which was held by News International and Haymarket Brand Republic Group, and chaired by the Media Square chairman, Roger Parry, at London's Altitude 360 earlier this year.
The excitement that the panel have for this new platform was palpable, but there was argument over how tablet media will affect the industry and publisher and advertiser opportunities. Simon Andrews, the founder of Addictive, and Robert Horler, Aegis Media UK's chief executive, thought that tablets were part of the mobile revolution. In Horler's case, he believed this was a significant change, but not as important as the internet, the rise of search advertising or social media.
He regarded tablets as complementary to other digital devices, while Andrew Morley, Motorola's UK and Ireland general manager, saw tablet usage replacing the time people spend on laptops. "It is how things work together that is the interesting thing, not replacement media," Horler explained. "I don't think, from an advertising point of view, it is incremental budget either – I think it is going to have to fight for its share of budget from the same pot that everybody else is fighting for."
That brands with authenticity will thrive on tablet devices was a consensus view, but the panel was split on whether it would be the established publishing heavyweights that will prosper or start-ups producing content. The speakers discussed a range of issues, including whether tablets were "game-changers", their value to advertisers and whether they would replace existing media.
Nicholas Coleridge, the publisher of brands such as GQ and Vanity Fair on tablets, believed those with a heritage in publishing would win out against newer rivals. He said: "I think we are in a strong position because of the authenticity of our brands."
Panel members disagreed on the value of brand advertising on tablets. Matthew Kershaw, the Bartle Bogle Hegarty content director, labelled ads on tablets "lazy" and "wholly inadequate", arguing that the industry was lagging behind consumers. The problem, according to him, was that it was difficult to ask a brand to spend £200,000 to £300,000 on advertising on tablets, when just 0.5 per cent of the population owned them.
However, all agreed that these are early stages and that smart brands will thrive. In addition, with projects such as NI's research into brand recall and the impact advertising on tablets has, the opportunities will only become more pronounced.
Horler said: "I think it is a game-changer and that it is here to stay. My sense is, as an advertising proposition, it's going to be a bit more challenging to unlock the value. That being said, I think it's great for publishers, and the publishing community in general has done a reasonably good job of monetising it. To do advertising brilliantly is a much more difficult nut to crack, I fear."
See who the panelists were at The Big Tablet Debate

The Debate
Roger Parry opens the event by asking each panellist to sum up the challenge and opportunity that tablets present the media business in general and their business in particular.

Nicholas Coleridge: I don't think anybody knows for sure how important the tablet can be but, at Condé Nast, we are betting on it being quite significant. It isn't easy to replicate digitally the high-gloss values of a monthly magazine and we aren't seeing any meaningful decrease in circulation of the print versions. However, we are readying ourselves. Three of our titles in Britain – Wired, GQ and Vanity Fair – are either available or about to be available in pretty sophisticated versions of tablet downloads with video and all the enhancements.

Andrew Morley: We think 2011 is the year of the smartphone and the tablet. At CES in Las Vegas at the beginning of the year, 80 tablets were launched and it just gives a sense of how big this market is growing. More importantly, tablets aren't just being purchased. They are being used. Some studies show that 90 per cent of people who have a tablet use it every day. Forty per cent of those who use a tablet use their netbook or notebook much less since they bought it. So you've got to think beyond more than just print. We know that tablets are bringing new challenges and new opportunities to the market, particularly when some of the tablets run Flash, so you get great opportunities to do new and different things.

Simon Andrews: We think tablets are really exciting but they are a subset of the real big change, which is mobile. We are convinced that mobile is the biggest thing in marketing and media since television. We think that mobile to the internet is like television to radio. A very large proportion of the time spent with the web will be done through mobile, so mobile is the big shift and tablets are part of that.

Robert Horler: It is very interesting from the publishing point of view. I think you can clearly see that it represents a fantastic opportunity for national newspapers and magazines to reconnect with users, maybe to have more success in exploiting a digital opportunity than perhaps some of them have had with the web itself.
From a media planning/advertising point of view, I think the opportunity is less clear. Clearly, it represents a fantastic opportunity if you look at all the research about how engaged people are using tablet computers.

Particularly around e-commerce, I think it is fascinating and exciting, and there has to be a link somewhere between advertisers and the transactional capabilities that they bring. If you look today at the amount of money being spent on advertising and the way it is being purchased and measured, I don't think anyone would say it was revolutionary.

Matthew Kershaw: We start with the consumer rather than technology and there is a macro-trend around the way our time is used. We have less fixed time these days. We are much less likely to be sat from 9am to 5pm in front of a desk, go home, have our meal, have our TV time. We live much more fluid lives – you can see how a device like this fits into that fluid lifestyle more easily.

From a creative point of view, that raises a lot of issues, but a lot of excitement as well as opportunities to make time in those fluid parts of our lives that currently we can't really engage with. We can talk to consumers during those periods and give them things that are going to enhance their lives.

Alex Hole: We see this as fairly transformative in the way we publish our content. We released figures around daily downloads for both The Times and The Sunday Times. On The Times, 35,000 daily downloads; on The Sunday Times, about 32,000. I think the point is that it enables us through either galleries or video content or other interaction to delve deeper with profound analysis, and it fits in with our paid-for strategy.

In terms of this debate, there is a challenge that we recognise around measurement and around trading metrics, and we work on this with both agencies and clients. There are also creative limitations that this device may have, and there are expectations of advertisers around delivering that creative. The opportunity is endless but, on a day-to-day basis, we are publishing on a daily cycle, so to replicate that is a challenge for us. We are a year in now so I think we have started to deal with some of those challenges.

Douglas McArthur, chairman, UK Online Measurement Company, asks: Will tablets ever become the main deal for consumer activity? Other than these niches (e-mail), will they become a mainstream utility for text, audio and video?

SA: If you look at the iPlayer, a huge proportion of viewing is on smartphones and tablets, so we are seeing that with TV. We are seeing that with YouTube – 10 per cent of all YouTube viewers are from mobile, so a high proportion of that is on the tablet as well. If you are Condé Nast or NI, the format allows you to do things as well, so we think, very quickly, it will become a major part of how you consume content. Yes, you will still turn on the big screen to watch the football match. But you are likely to have the tablet as you watch Tweets and the whole social thing around that. I think it's going to be pretty mainstream quite quickly.

MK: The reality is there are still fixed times [of media consumption in our lives] and, I don't know about you, but when I get home, I do eventually slump down on the sofa and the last thing I want to do is get out my little Pad, turn on my 42-inch Plasma and sit back. So I don't think it will be the main device – it is a bit of a Swiss Army Knife type of thing.

AM: It is interesting. For some activities, they are a replacement device. For laptops, we are finding it does replace usage, but it is a great supplement for TV – when you are watching the football, you can get the stats and watch from different angles. You can rewind live TV on the device.

Hallie Johnston, vice-president, corporate communications, Europe, McCann Worldgroup, asks: My alumni group told me all students at my high school are required to have an iPad. How do you reach the younger generation that will use that?

MK: Because it does everything and it receives the internet particularly well and is a great browsing device, those models that have been established through the internet will continue. The beloved banner. Another more interesting area is how the tablet can augment other parts of your life and media. There's a social contract between consumers and advertisers about how far we can intrude into your enjoyable experience of consuming content. This is a whole new space that we are entering into. One of the things we do need to do is make things very, very simple for people. It's a little bit too clunky at the moment, even though it's such an easy device to use. We have got to create a much more "push" environment – a path for people to consume this stuff while they are being entertained.

AH: It is about how you distribute your content as opposed to a one-size-fits-all approach. You are able to do really interesting things with tablets – new creative opportunities. However, you have to be all things to all people and give them options to consume your content with print, mobile or on the tablet. And if you can start to conquer, then there will be less of a challenge.

Steve Ackerman, managing director, Somethin' Else, asks: What are the challenges for more traditional media owners and what is the challenge for brands in terms of gaming and games on the tablet?

RH: Clearly, it represents an opportunity and I think unlocking it as a value proposition for advertisers will be quite challenging. And I don't profess to have all the answers. All I know is that in our attempts – and we have made plenty of attempts to advertise in and around games, mainly console games – we've had some successes. But it certainly isn't easy and it is quite a challenge, and I think the same challenge will apply on tablets.

MK: We haven't talked about games. For two reasons, I think. One is that games don't lend themselves to interruptive advertising. From a creative agency point of view, this isn't about a media buy; it is about creating your own games. We've had success with clients such as Robinsons and Barclays.

Parry asks: Is there any risk that games and other apps will become so compelling that they will restrict consumption of traditional media?

AM: People do use the tablet for gaming but what we are finding is that people use it around those downtimes – when they are commuting, when they are between activities or during that period in the day when they want to be entertained. It is more than just games – it's applications. And sometimes it's the really simple stuff.

NC: Isn't gaming just enjoyable time-wasting? I put it into exactly the same category that I put property programmes on television. The minute you finish watching them, you can remember nothing about them. It's not some elevated or important new direction in media – there has been time-wasting since the caveman. I don't even regard it as media. I regard it as just a pastime.

Parry asks: Andrew, as someone who makes these devices, do you think newspapers and magazines are using them to the full or are they behind the curve?

AM: I think that some are. The key is that you have to give everything you give in the printed version plus something more. If you don't give consumers something more, then they'll get it from somewhere else.

MK: There is a huge amount of love and energy around a lot of these newspaper and magazine brands. There is absolutely no reason they can't move themselves into the future. The BBC used to be a radio brand, it became a TV brand and now it is an internet brand. It can be done.

NC: When we started Vogue.com 15 years ago, there was a plethora of new fashion-based websites. But I don't think it is an accident at all that we have just over one million users and most of our competitors have 50,000.

Parry asks: If new businesses can create content with an e-commerce angle, what does this mean for publishers?

RH: I don't think there is any dispute that the publishing companies represented here and people who have a heritage producing great content have brought brilliant content to the web and are doing the same thing with tablet computers. The issue is monetisation.
Tablets are particularly encouraging for publishers because they don't seem to be cannibalising their products at the moment, and they are monetising them, albeit not through a huge amount of advertising, but that may well come. There is clear evidence that all the national newspapers and a lot of the magazines are successfully producing content on tablet computers that they are monetising, they are getting people to pay for them, and many signing up for them are saying they are using the print product more or that they are complementary to the tablet product. That's encouraging.
Final thoughts?
NC: Tablets are a cool and exciting new innovation. It's a great time to be in publishing. We don't really know where it is going to go but they strike me as having a very, very good chance of success.
AM: The mobile and tablet market is key for us. First, because it is a product we sell, and, second, because we believe it is a key part of the 360- degree campaigns we put together to attract customers. For me, tablets are here to stay and tablets and large smartphones are changing the way people consume media, and will continue to do so.
This isn't a one-Pad race – there are lots of different opportunities and alternatives, and if you are looking at this as a media decision, I would encourage you to think that this isn't just about one closed operating system. It's about much more than that.
It is not just an adjunct to a print buy – this is something that is new and unique and special on its own. So my plea would be: let's continue to innovate, do new things, push the boundaries, games and applications much more than 2D advertising, and let's continue to push this category.
AH: In order for this to become a meaningful medium, you need to allow the flow of money to be easy and frictionless. At the moment, it is not. I think the creative challenges are extremely high: the device does have some limitations, particularly when you are doing a daily publication. User experience for us is the most important thing, now that we've embarked on a paid strategy. But it's incumbent upon us to share insight and invest in research about what customers are doing. Only then can advertisers meaningfully engage with us.
The View from...
AGENCIES
Robert Horler, chief executive, Aegis Media UK:
"Another layer of complexity for planners to get their heads around, but I think we are cautiously optimistic about the opportunity for advertisers and what that might look like."

Matthew Kershaw, content director, Bartle Bogle Hegarty:
"From a creative point of view, there are a lot of issues, but a lot of excitement as well as opportunities to make time in those fluid parts of our lives that currently we can't really engage with. We can talk to consumers during those periods and give them things that are going to enhance their lives."

Simon Andrews, founder, Addictive:
"We have to recognise that the old models won't necessarily work. I think that push will fail miserably. There is an interesting role for brands to get involved and curate content. That idea of content being delivered through these [devices] is very important."
MEDIA OWNERS
Nicholas Coleridge, managing director, Condé Nast:
"If you haven't yet seen the GQ July one with Rosie Huntington-Whiteley on it, I quite warmly recommend it. And if you don't like it, I will refund the money. We welcome the tablet. It is jolly efficient – you can get paid for it, and the money arrives. Two things that are always attractive."

Alex Hole, digital commercial director, News International:
"There is a challenge that we recognise around measurement and around trading metrics, and we work on this with both agencies and clients. There are also creative limitations that this device may have, and there are expectations of advertisers around delivering that creative."
CLIENTS
Andrew Morley, UK and Ireland general manager, Motorola:
"According to Nielsen, 70 per cent of tablet owners use their device while watching television. At Motorola, we have a TV business, we sell set-top boxes and have a smartphone and tablet business, and that convergence to us is real. We are seeing customers use it today and we are seeing customers ask for products that take advantage of that integration."


The Big Tablet Debate is brought to you by News International and Brand Republic group