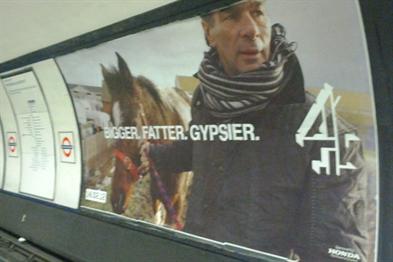 Campaign first revealed in February this year that the ASA had decided not to investigate the the 'Bigger. Fatter. Gypsier.' campaign
despite receiving over 300 complaints that the ads were racist and offensive towards the travelling community.
Today the ASA has announced that following a recommendation from the Independent Reviewer of ASA adjudications, the ASA Council has decided that its original decision not to conduct a formal investigation into the complaints was "flawed".
The ad campaign, which was created by Channel 4's in-house agency 4Creative, showed an image of traveller boys looking menacing and dressed up girls with the tagline 'Bigger. Fatter. Gypsier.'
Despite the complaints, the ASA originally decided not to investigate because, although the ads might not be to everyone's taste, both the images and the text reflected the tone and content of the programme they promoted.
The Irish Traveller Movement in Britain requested a review of the original decision by the ASA's independent reviewer,
Sir Hayden Phillips. Phillips then asked the ASA to reconsider, though his requests are not binding.
The ASA said in a statement that Council had made its original decision not to launch a formal investigation, without knowing that the Irish Traveller Movement of Britain had complained and that this was "a material fact to which they should have had regard".