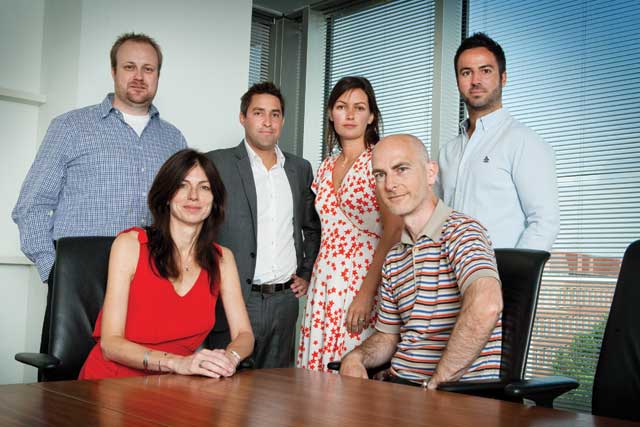 Ian Pearman is sitting in The Ivy talking about carrots. Not actual carrots - the vast steak on his plate doesn't leave room for those. He's talking about "carrot and stick" cultures at ad agencies. Some cultures are stick; others, carrot.
It's not hard to guess which one Abbott Mead Vickers BBDO is (but if you're stuck, skip to the last paragraph). The shop tends to inspire a lifetime of loyalty and affection in its staff. Pearman being a case in point.
With the announcement of Farah Ramzan Golant's move to run All3Media, Pearman, the 37-year-old chief executive who has been at the company his entire career, gets the full beam of the spotlight.
Ramzan Golant's exit might have shocked the outside world, but it was no surprise to the top tier internally. Apparently, the ever-ambitious former AMV executive chairman had been mulling her next step for around a year. After 22 years of living and breathing AMV, it was never going to be another ad agency, so she found her calling in a new industry.
But while she has opted for drama (All3Media is behind Midsomer Murders and Shameless), the agency she leaves has done its best to avoid it where its clients are concerned. The migration of her responsibilities to Pearman has been quietly taking place over the past 12 months. It has also hailed a number of internal promotions and the hiring of three new managing partners: Michael Pring, Tom Vick and Clive Tanqueray. "This is the next stage of our evolution," Pearman says. "AMV is known for its smooth and positive evolution, but it hides internally a series of little revolutions."
For those who don't know their AMV history, these included the 2005 uprising, when Pearman, Ramzan Golant and the executive creative director, Paul Brazier, took over management; the revolution of 2006, which saw a joint venture with the US digital agency iChameleon; and the resurgence of 2011, with the creation of a new team of creative partners.
Pring, Vick and Tanqueray do not look like a trio of revolutionaries. But that is the point, according to Pearman, who has brought them in for their experience. "We have some big, serious clients and we need some big, serious account men to service them properly," he says.
The flurry of promotions that swung into effect after the Ramzan Golant announcement, including Craig Mawdsley and Bridget Angear to chief strategy officers, Jonny Spindler to chief innovation officer and the former managing partners Richard Arscott and Sarah Douglas to managing director and chief client officer respectively, evidences carefully planned succession management - an AMV hallmark. "It is very exciting to see Ian step up with his team," Cilla Snowball, the AMV Group chairman, who is also lending support to the new top tier, says.
But a post-Ramzan Golant AMV has plenty to live up to. It had an outstanding year last year, putting in one of the best all-round performances in terms of awards, innovation and new business.
Jon Claydon, the chairman of Work Club, who notes the "quiet strength" of AMV's culture, is betting on it managing life after Ramzan Golant seamlessly. He says: "You don't get to be the number-one agency in the industry for 15 years without a highly evolved and mature culture and value set. Of course, losing Farah comes with downsides, because she's an outstanding operator.
But at AMV, the waters close quickly when you leave the pool." Pearman, as ever, is keen to avoid stagnation setting in.
The reshuffle and new hires are just the beginning of AMV's plan of attack. The biggest agency in town is now getting into IP. It has made some new digital hires, including Wunderman's Gregory Roekens, and is gearing up for a new IP unit as well as a new consultancy unit.
But back to carrots. Undoubtedly, AMV's culture is the secret to its success. And it's one probably best captured by the writers of the TV comedy Peep Show - aptly enough, another offering from All3Media.
In one episode, David Mitchell's character, Mark, hears a motivational speech from his adored boss Johnson and says to himself: "Yeah, fuck carrot and stick. He's making a stick out of carrot."
If any agency knows how to make a stick out of carrot, it's AMV.