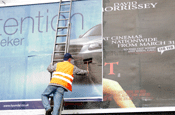 JC Decaux is investing millions in the change, which will see new biodegradable posters introduced across its 9,000 48-sheet sites and "high definition" vinyl on 96-sheet locations. The new formats can be clipped in and out of the poster frames and can also be reused.
The poster company claims that the new formats, which will be introduced from January, will provide advertisers with a better display and 15 per cent more display time because the posters can be erected more swiftly than the pasted versions.
Jeremy Male, the chief executive of JC Decaux UK and Northern Europe, said: "At the moment we're not looking to increase [ad] rates, we hope to benefit from investment from advertisers over time."