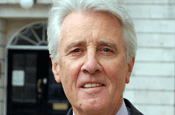 Billetts already has offices in London and New York.

Dietmar Kruse, previously managing director of Accenture Marketing Sciences (AMS) in Germany, will become chief executive of the Billetts' German office, taking up his post in February next year.

Hellmut Fischer, the former deputy managing director of AMS, Germany takes on the role of chief operating officer with immediate effect.

Michael Greenlees, the chief executive of Ebiquity, said: We have ambitious plans for the global roll-out of Billetts and Germany is at the heart of our strategy.

We are delighted to form this partnership with Dietmar and Hellmut, who have established a world-class reputation in their time at Accenture and previously at Media Audits.

Dietmar Kruse said: "We are happy that we have found a partner in Billetts whose vision and strategy for the evolution of the media auditing market fits with our own ideas.

The combination of the Billetts international network and our strength in Germany will be able to deliver a very advanced service for our clients."

The office is based in Hamburg and opens on 1 November.