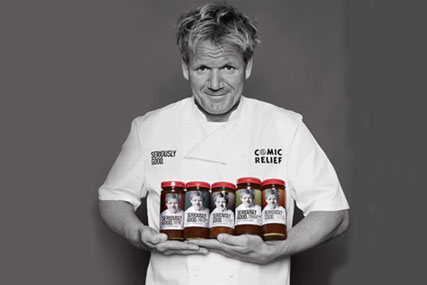 The agency picked up the work after a pitch, led by Sylvia Lowe, the head of UK innovation at Comic Relief, which was called in July.
Billington Cartmell will now create a series of TV, print, digital and direct marketing campaigns to raise the profile of the brand. Fallon, which handled advertising for the launch of the sauces last year, did not repitch for the business.
The agency's most recent work for the brand was a digital video featuring Ramsay. The film sees the chef appear as a talking head on the labels of the sauces, attempting to explain the benefits of the product. However, as he tries to do so, he keeps getting distracted as shoppers pick up the jars and put them in their shopping trolleys.
The Seriously Good sauces range was launched last year, and at least 10p from the sale of each jar goes to Comic Relief.
The venture came about following a visit made by Ramsay to Tanzania on behalf of Comic Relief.
Tom Lamb, the group account director at Billington Cartmell, said: "Seriously Good has done well since its launch and we are extremely proud to be working with Comic Relief and building on the success already created."