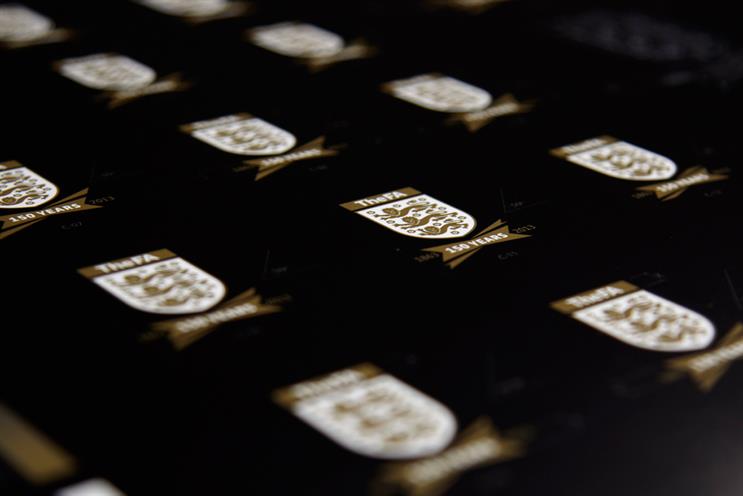 WHAT HE DID Johnson (pictured) created The Football Association's new badge and logo to celebrate its 150th anniversary.
Where did the idea come from? The design idea came from some really good conversations at the project outset with Stuart Turner, The FA's commercial director. Stuart was very keen that the mark was forward-looking. This is the reason why the insignia we've added below the crest is angular and dynamic, and unlike the visual territory more typically associated with anniversary marks. The idea to make the crest gold for a year came from wanting to do something immediately eye-catching. Alongside the logo, we also created a supporting brand for The FA's 150th year based on the original laws of the game as written during the first meeting of The FA in 1863. I'd say the success of the piece is a result of strong communications with the client and the internal design studio at The FA.
How did you get into design? I had an inspirational grandfather who taught me how to draw. He wasn't a design professional but, even back in the mid-70s, he held strong opinions on logo design and branding. I guess this early intro put me on the path to art school and everything that followed.
What are you most proud of? The work I'm most proud of is probably our brand for the FA Cup. It is such a globally recognised football competition and for Designroom Sport to be a part of the delivery team that created the current brand is very special. Alongside that, though, I have to say I'm extremely proud of our work on the brand for the Uefa Champions League final this year. Led by the co-creative director Tim Fox, this piece was amazing to work on.
What inspires you? Endeavour. Look at some of the achievements of our athletes last summer – they created some fantastic moments that brought everyone together and will live long in the memory. That was as a result of their hard work, application and endeavour. Also, anything to do with astronomy – still mind-boggling, no matter how much we think we know.
What are you working on next? We're currently working with The FA on a strategic piece for women's football in England, which is a great project with lots of facets and interesting problems. This piece will come to fruition in the next couple of months. Alongside this, we are very excited to see our brand work for the Uefa Champions League final roll out. This piece of work occupied us for much of last year and it will be fantastic to watch it come to life.