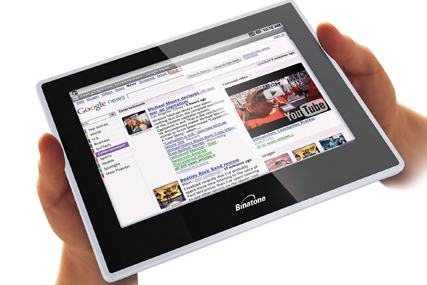 Binatone has already launched a home smartphone that runs on Android. Now it has come out with the HomeSurf tablet, which will be available in the UK and throughout Europe.
The HomeSurf uses wi-fi to access the internet but does not offer a 3G connection.
It can be used for listening to music, watching videos, tweeting and emailing, and can use the apps from the Google Android store.
The tablet has a seven-inch touchscreen and 2GB of built-in storage. There is also an eight-inch version, which will cost £180.
In a statement, Binatone said that the HomeSurf tablet was "the most affordable and all-encompassing solution to ever hit the European market".
The company hopes to grab a slice of the tablet market this Christmas, with analysts predicting that tablets will be the must-have gift of the season.
Other brands lining up tablet launches include Samsung, with its Galaxy Tab; BlackBerry, rumoured to be planning the BlackPad; and Lenovo, with LePad.
Binatone's launch is not without precedent. Amstrad, another British electronics retailer, launched a hybrid telephone/email device that was priced to appeal to those who did not want to invest in a home computer or laptop.