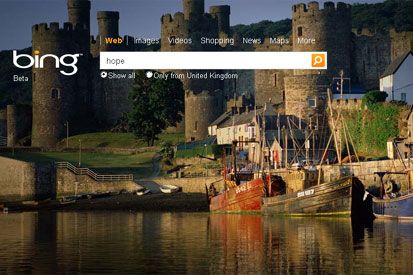 Analysis from Efficient Frontier shows that what is Bing's gain is largely Google's loss - an increase in clickshare for Bing was mostly to the detriment of Google, which lost 1.4 per cent of its own share while Yahoo! lost 0.63 per cent of its own share.
The latest comScore figures show that Bing owned 8.4 per cent of the market in June, topped by Yahoo! at 19.6 per cent and Google at 65 per cent.
The analysis was completed based on data from Efficient Frontier's international customer base and covered 252 million clicks over the two months. It shows a gradual increase over the two months which constitutes a consistent trend.
Last month it was also revealed that people using Bing are 55 per cent more likely to click on an ad than if they arrived from Google.
In July, visitors to Bing clicked on ads 1.5 percent of the time on average, versus a 0.97 percent clickthrough rate for Google visitors and a 1.24 percent clickthrough rate for Yahoo!.
A similar report from Efrontier last month found that that Bing's paid click gains were most significant in the finance and travel sectors, with gains of 17 per cent and 10 per cent, respectively.
Jonathan Beeston, client services director at Efficient Frontier, said: "The $100 million marketing budget for the launch of Bing alongside its new look and feel has obviously has some effect on the number of searches performed on the engine.
"Microsoft's new category focused Bing features may have helped them capture more of the seasonal summer travel searching and the additional query volume related to the stock market recovery.
"Change doesn't happen overnight but if trends continue, Microhoo might pose a very real threat to Google. The data provides a positive outlook for Bing and hope for real competition amongst the engines."
Still not convinced? Try the blind search tool, which provides results from Google, Bing and Yahoo! in three unbranded columns for each single query.
After a month of testing, the blind search tool found that users preferred Google 41 per cent of the time, Bing 31 per cent and Yahoo! 28 per cent - a huge discrepancy from Google's 65 per cent search market share.