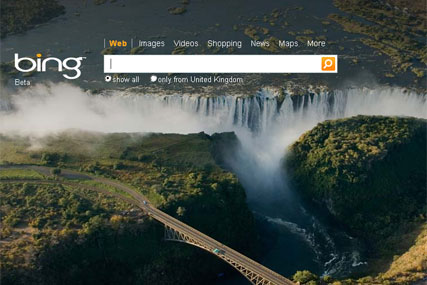 According to the first publicly disclosed figures - from The Nielsen Company - in the UK that include the site, Bing attracted 6.4 million unique visitors in the UK in June, down by 7.7% from 7 million unique visitors in May.
The figures, which combine Bing Web, Bing Images, MSN Windows Live Search, place Microsoft/Bing fifth behind Google, Google Image Search, Yahoo and Ask.com in terms of rankings by unique users.
Alex Burmaster, European internet analyst, The Nielsen Company, said: "While it's very early days, Bing has no impact on the UK search results and hasn't caused a ripple effect. The market remains very stable and hasn't changed much in the past couple of years."
In contrast Yahoo has attracted more unique visitors, jumping from 6.8 million unique visitors in May to 7.5 million uniques in June, a 9.1% increase.
Google search remained comfortably in the lead as the most visited search site, increasing its numbers by 2.2% in June, attracting 31.6 million unique visitors in June from 30.9 million in May and increasing its market share by 1%.
For full industry reaction and analysis to the Yahoo/Microsoft search deal, visit www.mediaweek.co.uk tomorrow.