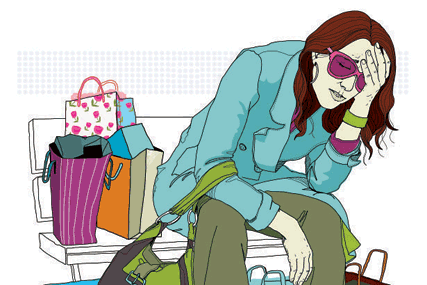 In the words of Oscar Wilde, "a New Year's resolution is something that goes in one year and out the other". It is an observa­tion confirmed by statistics: research suggests that up to 97% of New Year's resolutions remain unfulfilled. In fact, as January draws to a close, many consumers have already broken theirs. However, the traditional New Year spell of austerity may well last longer for many this year as a consequence of 2009's economic turmoil, and the changes they are implementing could have serious implications for marketers.
According to exclusive research from TNS, one in 10 consumers plans to reduce their spending throughout 2010. The majority of these expect to cut back on discretion­ary retail items such as DVDs, clothes, shoes, gadgets and beauty prod­ucts. Consumers' social lives will take a hit, too, as many plan to sacrifice eating out and going to pubs and bars in an attempt to stash the cash. Inevitably, the chasm between making resolutions and keeping them means that this research should not be taken as a solid behavioural indicator, but the sentiment remains important.
Sue Homeyard, managing director of information services at TNS Research International, says that brands should take consumers' plans to cut back in 2010 seriously. However, despite the recession and the shift in attitudes to debt, she believes that many, inevitably, will revert to type. Britain's recent cold snap, for example, has already led many consumers to recon­sider their plans for an austere 'staycation' and instead seek some holiday sun.
In fact, marketers must beware of unthinkingly accepting generalisations about how consumers are embracing 'austerity chic' en masse. Ben Hughes, worldwide advertising director at the Financial Times, says that not all consum­ers' spending habits will change over the next 12 months, because 'there is a rather weary wait-and-see game going on'. However, he adds: 'There is a real argument for big brands to come out and say to consumers: "When you're making a choice, choose me", but over the past year some have been conspicuous by their absence.'

Changing attitudes
Despite positive results from retailers during the fourth quarter, many have publicly declared that 2010 will be a tough year and forecast that profits will be down. Some analysts believe the business community's wariness is simply a face-saving exercise in the wake of a traumatic 18 months of business - if you lower expectations, it is easier to surpass them.
Nonetheless, it is clear that, while Britain may be on the cusp of emerging from recession in a financial sense, consumers remain cautious and this could place massive pressure on a diverse range of brands over the coming months.
Tony Wornell, director of BDRC Research, warns that tax rises appear almost inevitable, which means consumers' take-home pay will be reduced. 'The average house­holder is facing a backlog of bills following Christmas, and the lack of clarity over what the next 12 months will bring has created a massive barrier for brands,' he says.
At the heart of this lack of consumer confidence remains Britons' obsession with property and the idea of making money from it. 'Many people thought the equity in their homes could subsidise their life­style,' says Richard Jenkings, head of consultancy at Experian Market Planning Group. How­ever, he notes that the idea that we can get something for nothing - whether fame, money or luxury - has been swept away in the past 12 months. 'Perhaps the end of this bubble is not a universally bad thing,' he adds.
For marketers, one of the most important consequences of consumers' shifting attitudes has been the rise of the 'savvy shopper'. Women are more likely to actively hunt for a discount than men, according to TNS, and men are more likely than women to buy items at full price (25% compared with 18%), while 49% of women and 40% of men say they have made a significant resolu­tion to cut back on spending.
Mark Guymer, head of shopping and vouchers at Moneysupermar­ket.com, says that a growing number of consumers are not only shopping around for the best deals, but are also using online vouchers in tandem with existing offers. 'Retailers need to adapt their strategies to win them over,' he warns. 'In the US, Best Buy has changed its policy to include price-matching with deals that shoppers are finding online.'
These savvy shoppers represent a challenge for brands. Research suggests that over the coming months consumers will continue to defer big purchases such as cars, or home improvements costing more than £1000. However, some analysts believe this mentality will start being applied to smaller purchases as well.
According to Julian Reiter, man­aging director of marketing group Positive Thinking, the middle class - the backbone of the British economy - now expects a discount. 'Sales don't have the same impact anymore and when consumers are expecting a 70% discount all year round, it's a big challenge for brands,' he says.
Shopping it seems has lost its position as a leisure pursuit. Adele Meer, planner at ad agency Archibald Ingall Stretton, says that far from being the relaxed pastime it once was, consumers now 'stealth-shop', using their smart phones to research their purchases and 'raising an army of mini-Martin Lewises' (the journalist and self-styled 'Money Saving Expert') to secure the best deals.
In response to this, in the US, clothing retailer Gap has sought to placate consumers who are withholding their spend until sales periods with the introduc­tion of a loyalty scheme called Sprize. It puts 'Sprize money' in a customer's account when a product they have bought goes on sale at a reduced price within 45 days of purchase - in effect, paying them the difference between the full price and sale price. Such tactics not only stop consumers feeling cheated, but, crucially, tackle the issue of them indefinitely deferring or putting off purchases.

Conflicting forces
Nick Gray, managing director of retail marketing agency Live and Breathe, says
it is important not to look at 2010 in isolation. 'The "I want" generation isn't going to be cutting back forever. As soon as they hear positive noises, they will revert to type and carry on spending,' he says.
Alistair Leathwood, managing director of FreshMinds Research, says conflicting forces will affect consumer spending over the coming months. 'There is a real feeling that many consumers are getting sick of the whole austerity chic thing,' he says. 'For much of the British public, overseas holidays are seen as a divine right and
their lifestyle is sacrosanct. They will do everything they can to protect it.'
Certainly it is not all doom and gloom; many may have been glad to see the back of 2009, but the beginning of a new decade offers myriad opportunities. While Britain has no Obama-style leader to galvanise the country, many believe the general election will mark the start of a new beginning for these moody isles.