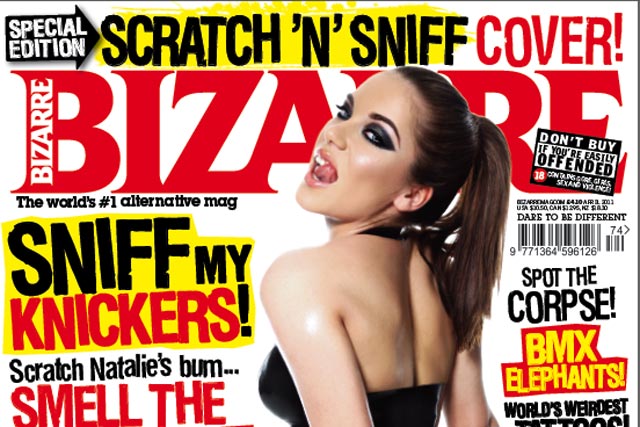 The cover features model Natalie Blair wearing thigh-high PVC boots and underwear, accompanied by the words "Sniff my knickers! Scratch Natalie's bum… Smell the rubber!".
The cover for the April issue of Bizarre, out on 15 March, also contains a special feature about smell fetishes.
Advertisers in the issue include Play.com, the Liverpool tattoo convention and HMV film. The magazine will sell at the usual price of £4.10.
The issue will be given special shelf prominence in 400 of the 560 WHSmith high-street stores across the UK. It will sit in a special unit clipped to the front of the shelf where it is usually found next to lads' mag titles such as IPC's Nuts and Bauer's Zoo.
The magazine is available in 1,200 stores across the country including Esso, Shell and SSP convenience locations.
Bizarre, which describes itself as the "world's number one alternative mag", was launched by John Brown publishing 14 years ago. In 2001, the title was bought by I Feel Good (IFG).
In 2003, Dennis Publishing acquired IFG from James Brown, the former Loaded editor, for an estimated £5.1m, and took over Bizarre as well as the remaining titles in IFG's portfolio, which includes Viz and Fortean Times.
The magazine, which has an ABC circulation of 24,744, has various brand extensions, including an online dating site called Savage Hearts, described as "alternative dating with a bizarre twist", and annual alternative-themed gigs called Bizarre Balls.
Russell Blackman, publisher of Bizarre, said: "We are aiming for this issue to show that, even in a challenging men's market, Bizarre is very much alive and kicking and continues to push publishing boundaries.
"As every magazine editor is acutely aware, it is an increasingly competitive market and all brands need to work harder than ever to make their voices heard."