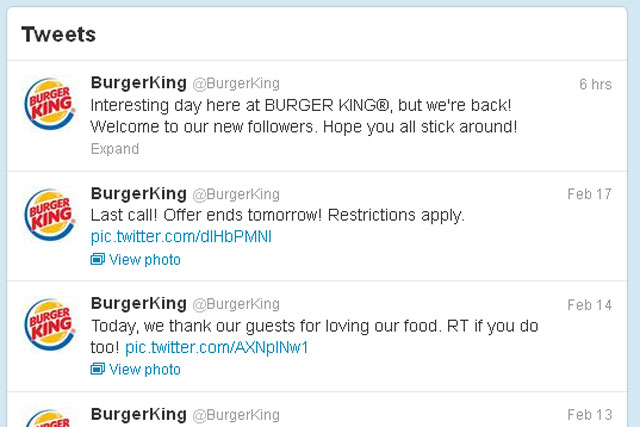 Burger King's first Tweet today following the hijacking was "Interesting day here at BURGER KING, but we're back! Welcome to our new followers. Hope you all stick around."
Yesterday's hackers put up the McDonalds logo and sent out messages for over an hour, before the account was shut down by Twitter.
The hackers told Burger King's 89,000-plus followers that the company had "just got sold to McDonald's because the whopper flopped".
Further posts on the account contained racial slurs, obscenities and references to drug use. No one has admitted to being behind the stunt but the hacking group Anonymous tweeted about the incident extensively.
A Burger King spokesman said: "We apologise to our followers who have been receiving erroneous tweets about other members of our industry and additional inappropriate topics."
Before the hacking, the Burger King Twitter feed had 89,000 followers, which has now grown to over 110,000.
McDonald's posted a message on its own Twitter feed which read: "We empathise with our @BurgerKing counterparts. Rest assured, we had nothing to do with the hacking."
The incident is similar to the messages sent out by a HMV employee after the struggling retailer fell into administration.
Follow @johnreynolds10