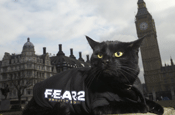 Warner Bros. Interactive Entertainment is behind the campaign, which aims to promote its new horror video game F.E.A.R. 2: Project Origin.
The company claims that in the current uncertain climate, people are even more on edge about Friday 13 than usual.
Playing on this fear and paranoia, Warner Bros. has sent out individually trained black cats onto the streets of London wearing branded cat clothing bearing the title of the video game.
Charlene Allen, a spokeswoman for Warner Bros., said: Every day people are bombarded with so many advertising messages that it can be easy to miss them.
With our research telling us that Brits are actively looking out for bad signs of bad luck this Friday, it makes perfect sense to try and capture their attention in this way.