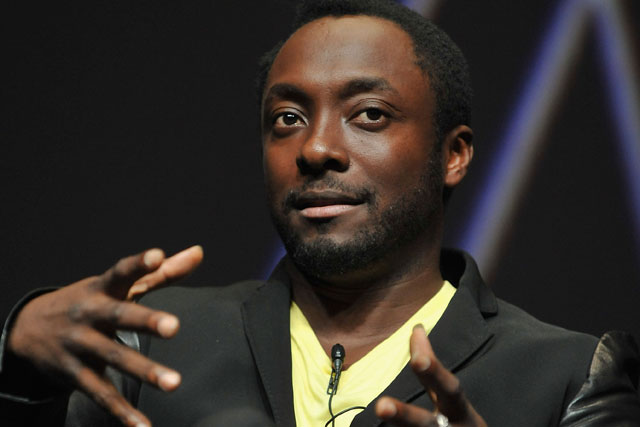 Speaking at the Cannes Lions International Festival of Creativity, one of music's most successful brand ambassadors did not soft-pedal his message for a rapt audience of advertising and media delegates.
Will.i.am said: "Ad agencies are yesterday. But ad agencies that can turn consumers into agents that add value to community and life, that's what it's about right now."
The multi-platinum artist was in the South of France in his new guise as director of Creative Innovation at Intel.
He drew on his experience of making music on computers over the last decade to illustrate how fast the media and technology landscape is changing.
He said: "Right now it's a unique time, because TV's not what it used to be. It's old technology. When you compare it to that guy's tablet – he took a picture with it. Big old tablet two seconds ago. It changed.
"That smart tablet he has, the smart phone, it's more powerful than the TV. It's more powerful than any magazine, all the magazines at once.
"So what we are all experiencing is a big major shift: what ad agencies used to do, what marketers used to do, that brands want to continue to have. That interaction and engagement with a bunch of people. To put the brand in front of it."
His message to the room was to harness creative talent and find new, innovative solutions to cut through and maintain connections.
"Ad agencies are still important but they are trying to figure out how to add, and be, agents for brands in this new culture that we are experiencing," he said.
"How do you take the consumer, and turn them into agents that add value to your brand, that add value to your communities, that's the puzzle."
Talking to Campaign, Will.i.am, real name William James Adams Jr, expanded his theme. He said: "We're experiencing the birth of something. There's a big void that people are trying to fill."
He admitted that in the early days of the Black Eyed Peas he'd form partnerships through agencies or other third parties but said increasingly he is now working directly with brands as well.
Explaining his thinking behind getting into bed with corporate marketers, he said: "Brands, where do they go when people have the ability to TiVo things? When your tablet is more important than a magazine. What does a full page ad mean that is still, it doesn't move."
The singer's comments come just a few months after he managed to takeover the most prestigious and lucrative advertising showcase in the world: the Super Bowl.
Not only did he perform with the Black Eyed Peas during half-time at the sports event itself, but he directed two ads for Chatter.com that aired around the band's performance.
Said to be a natural evolution after working on music video concepts, it marked just the latest in a line of commercial tie-ups, that have included deals with Apple for its iPhones and iTunes ads.
He said: "Yesterday's ways of informing people don't work today. So people are open-minded to anything creative. Those creative folks that have a different perspective."