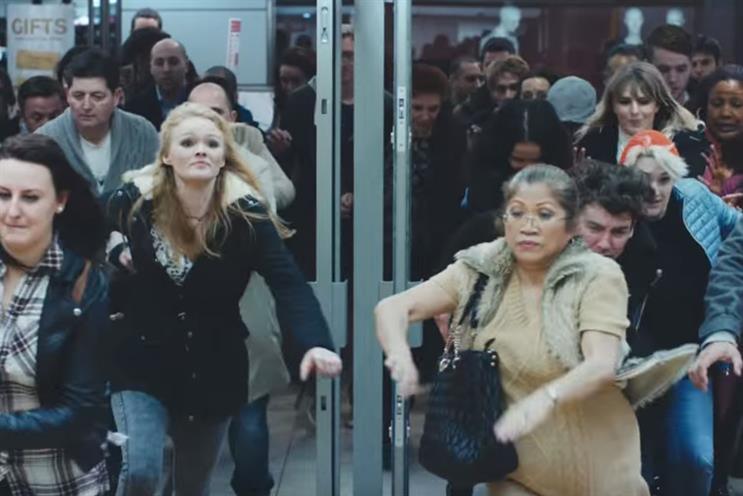 While discounts are aplenty today, some advertisers have set themselves apart from the images of stampeding shoppers that are emblematic of Black Friday in the US.
Retailers such as Asda and Primark are not taking part this year, while other brands struck a calmer tone in their marketing.
Doddle
The ad shows the contrast between the craziness of Black Friday shopping (hitting fellow customers, losing your toupee) and Doddle's easy delivery service. It was created by Fold7.
KitKat
J Walter Thompson created an ad for KitKat that subverts a universal symbol of buying, the barcode. Two fingers of KitKat are part of the barcode along with the brand's tagline, "Have a break". It will run in the Metro newspaper this morning, at Westfield shopping centres, and on KitKat's social media channels.
Ted Baker
Ted Baker released a fantastical film in which gifts magically find their way to a man and woman strolling through the snowy woods. "No need for frantic shopping sprees or hours spent online", the retailer says on its website, which allows customers to shop for the items in the film.
Currys PC World
With more stock than ever, you can say cheerio to shop floor fisticuffs this #BlackFriday! #BritishBlackFriday http://go.currys.co.uk/cJDjbi

Posted by Currys PC World on Thursday, November 26, 2015
Currys PC World encourages UK shoppers not to "throw your Britishness out the window this Black Friday" and maintain a sense of dignity amongst the frenzy. "You can enjoy Black Friday without the black eyes," the video says.
Samsung
Samsung has embraced the true Black Friday spirit. On Monday the company released this ad in which people let their TVs get damaged on purpose so they can buy new ones. The spot promotes Samsung's SUHD TV.
O2
Get ready. This Friday £1000s worth of tech will crash to the floor in O2 Price Crash: http://o2.uk/PriceCrash

Posted by O2 on Tuesday, November 24, 2015
O2 went all in as well, claiming "no price is safe" on Black Friday. The brand is selling devices such as the HTC One M9, Samsung Galaxy S6 and Galaxy Tab S2 for as little as £1.
Game
On the back of its popular Christmas Shopper Simulator that got 24 million YouTube views last year, video games retailer Game has unveiled Christmas Shopper Simulator 2: Black Friday. Trailers for the game show shopper stampedes, fire extinguishers, an in-game selfie stick, and stores such as Meat Buns Burger Bar and Britain's Got Talons. 101 created the campaign.
Aldi
We're proud to say that we don't do a #BlackFriday, meaning you get to rest easy everyday that we'll always save you money. Big thanks to award winning cartoonist Tony Husband for the cartoon!

Posted by Aldi UK on Friday, November 27, 2015
Aldi claims it doesn't do Black Friday, instead offering low prices year-round. The retailer posted illustrations by cartoonist Tony Huband on its social media channels mocking the day. It also got buzz the day before Black Friday by releasing a spoof of John Lewis' "man on the moon" Christmas ad.