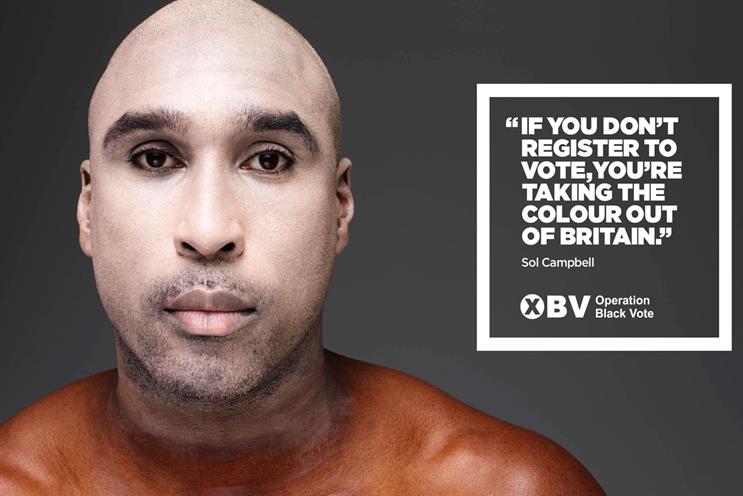 The not-for-profit organisation, which advocates for a greater Black and Minority Ethnic (BAME) representation in politics, has partnered with Saatchi & Saatchi London and Rankin, the photographer, for the campaign.
The posters feature famous black faces: rapper Tinie Tempah, actor David Harewood, ex-footballer Sol Campbell and the former Paralympian, Ade Adepitan.
They all turn their skin colour white to demonstrate how British diversity will suffer if the BAME community does not vote in the upcoming General Election.
Magnus Djaba, the chief executive of Saatchi & Saatchi London, has also been photographed for the campaign.
Djaba said: "I'm proud to be a Brit, and proud to be a Londoner. I am also proud of the communities I am part of because we do bring colour to the world.
"For me, this campaign isn't just about the BAME community, it's really about the kind of country we want to live in."
The campaign features four individual posters, each with the strapline, "If you don't register to vote, you're taking the colour out of Britain."
Harewood said: "If you want change, you have to vote for it. In order to vote, you have to register. We can't continue to stand on sidelines of the British democratic system, we are a part of it and our voices matter."
The images will run across poster sites, and on social media via the celebrities' and Operation Black Vote's Twitter accounts.
Simon Woolley, the director of Operation Black Vote, said: "The goal is clear - to encourage Black and minority ethnic communities to register to vote and vote in the 2015 General Election in the largest numbers ever.
"The broader aim is to use that political leverage to demand from all the political parties that tackling race inequality must be a priority."