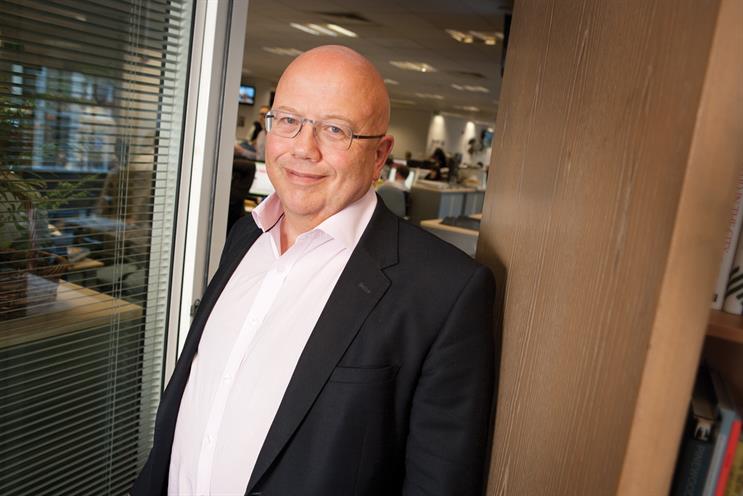 Pictured above is an incongruous photograph of The Independent's new seven-day editor, Chris Blackhurst – seen here smiling in his office.
Anyone who knows the 53-year-old Cumbrian would agree that this is not a true reflection of his general disposition right now. The former City editor of the London Evening Standard (sibling to The Independent) is anything but a bubbly, light-hearted leader keen to wax lyrical about his own elevation. And for that you have to admire him.
These are hard times for national newspapers, and the heady days of print circulations in excess of 400,000 during the first four years of The Independent's launch in 1986 are long gone. Last month, the newspaper's headline figure was fewer than 78,000 – and this falls below 50,000 for full copy sales.
No newspaper has been immune to the challenges, but for The Independent – created by journalists without the backing of a centuries-old trust (The Guardian), a global multimedia empire (The Times) or a publishing giant (Daily Mail) – the fight for relevance and financial security has always been more acute.
Blackhurst's promotion comes amid a group restructure that is likely to result in the redundancies of at least 25 journalists, including the Independent on Sunday editor, John Mullin, who first joined the group back in 1987.

"Like all newspapers, we're having to make cost-efficiencies in how we run our businesses. It is a constant process," Blackhurst says.
"We're looking at more integration between the Standard and Independent titles, and we have decided we can publish across a seven-day operation. That has come with the announcement of job cuts."

If anyone can make the new structure work, it should be Blackhurst, who has more than 23 years' experience on national titles including The Sunday Times, The Independent on Sunday and the Sunday Express. "I've worked on Sundays just as much as I've worked on dailies," he says. "I'm fully aware of the different needs and rhythm of the Sunday market. It is not just another day of the week."

Following the restructure, the new seven day operation will be published every day of the year, except Christmas Day, by a core team of about 165 journalists. Blackhurst knows all too well this plays against editorial teams three times its size at The Guardian - even if its voluntary redundancy scheme is successful - and twice the size at The Times.

"I would be lying if I said it wasn't a struggle," says the editor. "It is relentless, and we can't afford to carry passengers with that kind of difference in [staff] numbers. But we still get recognised for plenty of awards for our journalism, and The Independent brand name is known the world over for quality, for objectivity and integrity, and for credibility."

Such international kudos has never been so important to the paper's future as it is right now. The Independent's Russian billionaire owners of the past three years, Alexander and Evgeny Lebedev, spend much of their time globetrotting. And as speculation mounts surrounding their motives behind seeking a financial partner for the UK business, Blackhurst recognises this international calling card is a major strength.

"I think the Lebedevs value all the papers," he says. "They have different strengths… The Independent has an international reach and reputation and they are international people. It's read in Washington, Paris, Moscow and Beijing, and they love owning it for that reason."
Perhaps it's all his years as a business reporter, or maybe the clarity of thought afforded by The Independent's precarious position, but Blackhurst is as commercially open an editor as you're likely to meet. At the Advertising Association's LEAD event last month, he berated some fellow journalists who, "when you mention the word 'advertising', still hold their head in their hands or make the sign of the cross".
-It suddenly feels like a very good multimedia group. The demand for our journalism has never been higher-
"As far as I'm concerned, advertising is an absolutely vital source of revenue," Blackhurst says. "For all papers, [copy] sales are either static or they are declining. What's fortunately providing an enormous amount of revenue is advertising."

Figures over the last decade confirm that while newspapers' share of advertising has been falling steadily in print, it still attracted around £1.2 billion in advertising spend last year, according to ZenithOptimedia (compared to £1.64 billion in 2002).
He singles out Sunday as "one of the major commercial days of the week" and says: "It's very important that we provide a very attractive and enticing package. We'll do everything we can to work as closely as possible with ad­vertisers, without losing our editorial integrity."
Such a declaration from the man leading the editorial teams behind The Independent, The Independent on Sunday and its 20p digest, i, should be welcomed. Collectively, the print titles are read by more than 1.1 million people, according to the latest National Readership Survey – ahead of The Guardian.
But Blackhurst makes a plea for more innovation when it comes to press ads. He cites the all-too-frequent requests from brands still wanting to run copy-led ads that look "just like actual editorial pages" as symptomatic of the lack of creativity currently dogging the industry.
He says there is a balance to be struck when marrying commercial with editorial, and admits The Independent made the wrong call with its handling of a Vodafone campaign before Christmas. The telecoms company took out coverwraps across most mid-market and quality newspapers (The Times refused), but The Independent instead opted for a large ad next to its editorial splash.

"We made a mistake," Blackhurst says now. "The ad was actually far too big for the page. If we had agreed to the coverwrap, it would have kept it quite distinct from the editorial offering."
There was some reason for optimism in last week's digital figures, with unique browsers for The Independent's site up nearly 20 per cent month on month to 25.2 million. Blackhurst admits the brand has been "a slow starter online", but says: "We really are finally motoring online."
He hints at new app launches in the coming months, but is reluctant to elaborate. He becomes more animated when asked about the boost provided by the group's success in securing the London TV franchise.

"We've got the Standard, which is making a profit for the first time, and The Independent titles, where losses have come right down from £22 million to around £13 million," he says. "If you put all that together with the prospect of a TV station for London, one of the greatest cities in the world, it suddenly feels like a very good multimedia group, with a lot of action on a lot of fronts."

Blackhurst recognises his new role within the group will bring challenges and more demands in an ongoing period of uncertainty for newspapers, but maintains that journalism still offers a "great career" for those of a certain disposition.

"Journalism's a very natural job," he says. "It's about pandering to our nature as human beings to be inquisitive and to be nosey. And the thing that sustains me, is that the demand for our journalism has never been higher."
So, perhaps some reason to smile, after all.
The lowdown
Age: 53
Lives: Kingston
Desert-island luxury: A tennis racket, ball and wall
Favourite media brands other than The Independent: The New Yorker, The Spectator, The Economist
Interests: Golf, football (Fulham), racketball