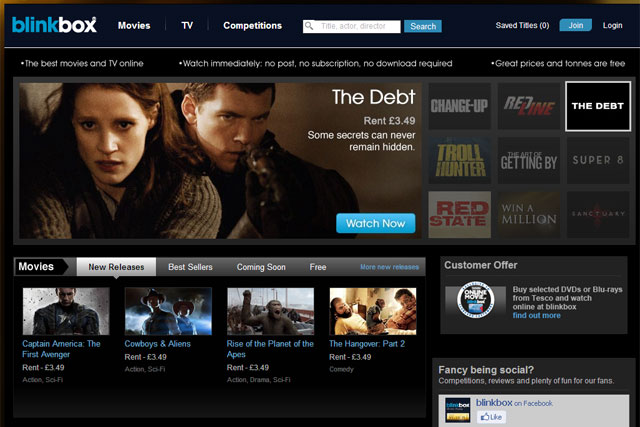 Adrian Letts, chief operating officer at Blinkbox, told Marketing that moving the service onto mobile phones "is definitely something we continue to explore".
He said: "We would like to launch on lots of platforms and Sony PlayStation would definitely be one. We actually have a proposition at the moment that you can access our programming through the browser on Sony PlayStation, but coming onto deck is definitely something we would love to do."
Blinkbox is already available on iPads, PCs, Macs, Xbox, LG and Samsung smart televisions.
It has three million monthly users and operates a part paid-for, part ad-funded model.
It offers more than 9,000 movie titles to rent or buy, in addition to free-to-view movies, TV shows and trailers.
Letts admits the current Blinkbox proposition is more suited to television rather than mobile phones.
He said: "It will be interesting to see how people adopt the proposition. If your focus is delivering latest release, high-quality movies, it's quite challenging to do on a screen the size of a phone – I would love to deliver it if there is demand."
There is still space in the movie-streaming market despite the recent entry by US giant Netflix, according to Letts.
He explained: "The difference between us, Netflix and Lovefilm, which I do think are very competitive, is that we are focused on latest-release DVDs and we are not a subscription model, and we are focused on delivering the best customer experience."

Tesco bought an 80% stake in Blinkbox for "single-digit millions" in April last year and hopes to take full control of the company within 12 months.
Letts insists Tesco taking full control will not affect the direction of Blinkbox.
He said: "There is no intention to take away the Blinkbox brand or change the modus operandi – we are only looking to enhance it."
Follow Matthew Chapman at @mattchapmanUK