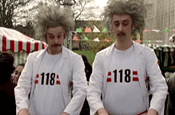 The move has been made as 118 118 plans to increase its digital adspend during 2009 to up to half of its current £8 million adspend.
The online buying business moves from OMD UK, which will continue to handle offline media planning and buying. Naked will also continue in its role as the lead communications strategy agency.
BLM Quantum was appointed following a series of presentations to 118 118 on a strategy to promote its services through digital channels.
The Number had initially kicked off a pitch for a digital creative agency (Campaign, 23 May) but has opted to appoint BLM Quantum instead to place a focus on a media-led strategy for online.
Digital activity is likely to focus on demonstrating the diversity of questions the 118 118 service can answer around the clock.
One idea is to directly link questions asked when consumers are out and about back into online creative.